York Omnium Festival of Cycling Arrives!
Friday, 7th June 2019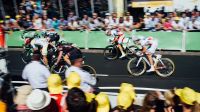 York's Festival of Cycling is Here!
York Omnium Festival of Cycling is a brand new event free to spectators which takes place this Saturday 8th June 2019 at the renowned York Sport Village at The University of York grounds near Grimston Bar, York. An action packed event for keen cyclists and spectators, the event is designed for everyone who enjoys bike racing, but is frustrated by the 'blink and miss' experience of roadside races. Men and women, compete on a purpose built 1km cycle circuit, over three spectacular race formats, so expect lots of sprinting, break-aways and tactical power-plays! With ample parking, easy access by bike and public transport, visitors can enjoy a healthy selection of food trucks, a hearty dose of local beverages and a great sound system. It's a relaxed way for friends and family to watch the cycling, or for anyone who just enjoys the thrill of the competition followed by a chance to kick back and soak up the atmosphere. Visit www.yorkomnium.com for details.
ENDS
__
For more details, images and interview opportunities with founder and event-lead Toby Marks, please contact Kendra Grahame-Clarke at Kendra PR on 07910 214474 or email Kendra@kendrapr.co.uk