Liz Kemp to Open Whitby Shop
Wednesday, 14th August 2019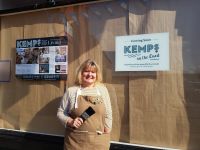 Hold on to your Hats: Kemps to Open in Whitby
Following the continued success of award winning Kemps General Store in the North Yorkshire market town of Malton, owner Liz Kemp announces that her new venture - Kemps on the Coast - will open in Whitby this summer.
The original Kemps General Store is lovingly curated by Liz, selling gifts and must-haves for the home, which are mostly British made and often sourced locally. Kemps on the Coast will retain the ethos of 'things you most certainly want and even need – and something more unusual ….' and add a dash of the great British seaside and elements unique to Whitby: a treasure trove of delightful products – as Liz says of the new sister store 'it's Kemps but with a salty twist'.
With retail in the blood, Liz's love of merchandising was inherited from a happy upbringing above a small shop owned by her parents in Bramham, West Yorkshire. Liz's family remained keen on customer service and having absorbed the importance of 'customer' experience on which her family successfully built their business, Liz created an oasis of calm on the busy Market Place of Malton. Liz's new shop on Grape Lane in Whitby will celebrate the essence of this special coastal town with quality at its heart.
Says Liz: 'I looked far and wide for the right location for the next Kemps and Whitby is perfect. Its heritage, its constant residential community and excellent visitor numbers obviously played a part in my decision. I also recognise the growing success and investment in Whitby and its year round attraction. It's a hot destination and I'm looking forward to riding that wave. As for the shop itself, it's the quality of Kemps but with a coastal theme. I value usefulness in items as well as items that just catch the eye and pull at the heart strings – those objects that years later remind you of that memorable day that bring back the smell of the salt, the sound of the sea, or those quality items that remain in daily use and are a joy to reach for. We welcome browsers and I'm working hard to create an ambience that is unique to Whitby. The hauntingly beautiful Whitby Abbey, the links with Bram Stoker and today's superb Goth presence is just wonderful. I feel as if I'm let loose in a sweetshop and I can't wait to open.'
Kemps General Store is a multi-award winner and Liz is confident that Kemps on the Coast will again set a benchmark in quality retailing, with customer service remaining a constant in the new shop. In 2018 and 2019 Kemps in Malton was included in the coveted UK's 2018 Small Business Saturday in which just 100 businesses across the country are nominated annually. Kemps was also a finalist in the UK's Best Newcomer Award for the Greats Independent Gift Retailer of the Year and was shortlisted for a FSB Celebrating Small Business Award 2019.
The new shop, which will provide 420 sq ft of retail space, is located at 10 Grape Lane close to the Captain Cook Museum and just over the bridge. Renovation work is now underway with plans to open in August.
ENDS
Notes to Editors:
Liz Kemp
After 20 years in the demanding events industry, managing a portfolio of million pound events for international clients, Liz decided that it was time to honour her childhood roots and take on a new challenge. She decided to set up shop, but not just any shop, an emporium of the beautiful and unusual to be exact. Kemps General Store is a place for people to browse and lose themselves in, a source of fascination and delight, in her adopted home of Malton and the new Whitby shop will provide the same quality products, service and ambience, but with a salty twist. Alongside curating a range of imaginative and mostly UK made products, Liz's vision was to re-create the welcoming and vibrant atmosphere her parents had cultivated over 40 years ago.
Liz Kemp has brought her stage and event management skills to her retail business. Liz is an experienced event production specialist, working with some of the best known names in the business. Liz's career includes leading roles within the industry, in London and Europe, working with organisers of conferences, public events and festivals, in addition to well-known names in the world of theatre, cutting edge agencies and FTSE 100 companies.
Kemps General Store, Malton, Re-Established 2017
Today the shop stands as a testament to tradition and the old ways of doing things, a small oasis which reflects a slower, calmer way of life. However alongside heritage, there is also certainly room for the new. Whilst the service may be exactly the same as all those years ago, the products are decidedly much more exciting! Long before opening the doors, Liz hunted up and down the UK for the best of British - looking for exciting new brands and beautiful contemporary designs.
**
Kemps on the Coast Kemps General Store
10 Grape Lane 13 Market Place
Whitby YO22 4BA Malton, YO17 7LP
01653 693577
https://www.kempsonthecoast.co.uk/
https://www.kempsgeneralstore.co.uk/
For images, details and interview opportunities, please contact Kendra Grahame-Clarke at Kendra PR on 07910 214474 e. Kendra@kendrapr.co.uk