York Open Studios 10-11 July & 17-18 July
Thursday, 8th July 2021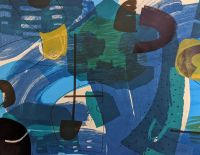 YORK OPEN STUDIOS: HURRAH! THE WAIT IS OVER
Weekends 10th – 11th July, and 17th - 18th July 2021
The renowned York Open Studios' two weekends 2021 have finally arrived! Celebrating a special anniversary in 2021, all the artists are delighted to be going ahead with the event this year and looking forward to welcoming visitors on 10th and 11th July, and 17th and 18th July. Featuring over 140 artists and makers showing and selling their work within their homes and workspaces, this is a fabulous opportunity for art lovers and the curious to enjoy fresh air, meet the artists, view and buy unique arts and crafts from York's very best artisans.
2021's York Open Studios continues to celebrate originality and diversity, with visitors welcomed by artists who will continue to adhere to Government guidelines, keeping themselves and visitors safe throughout. This year's two-weekend event is bursting with colour, form and creativity and the York Open Studios team are thrilled with the line-up.
Beccy Ridsdel, one of the committee members and an artist in her own right adds: "After last year's postponement, we think this year's 20th show is one of the best. With our decision to move from April to July this year has also given us the opportunity for the stricter current Covid guidelines to relax and give the public more confidence visiting artists' studios. Artists and makers bring a diverse range of skills to the weekends producing bespoke ceramics, furniture, glass, jewellery, painting, photography, printmaking, sculpture, textiles, wood carving and multi-media. There is something for everyone and every pocket. The artists also love to showcase their work within their surroundings and really value the interaction, whether you're a buyer or a burgeoning artist. It's a fabulous way too to enjoy York and view extraordinary work."
This year, the artists will be included on a map of the city so visitors can easily make their way to as many studios, workshops and homes as they wish. Visit www.yorkopenstudios.co.uk for more information and for your free York Open Studios map. Alternatively, they will be available from Visit York on Lendal or in a selection of shops, restaurants and visitor attractions around the city. Credit artist here, Emma Whiting.
ENDS
Notes to Editors:
York Open Studios: 20 Years of Creativity
York Open Studios is an annual not-for-profit event which represents the best of artists and makers living or working within a ten-mile radius of the city. Many artists open their doors to invite the public into their workspaces, some artists will share venues or exhibit their work in other spaces. Artists who are not in their own workspace may display a selection of tools and materials or even demonstrate their skills to give you a more 'Open Studio' experience for visitors.
The website provides full information regarding the event, illustrating details of participating artists, including their medium and a map of York and its surrounding areas which highlight where visitors will be able to visit them. These can be found in libraries, shops and galleries all over York in the weeks before York Open Studios.
For more information visit York Open Studios or email info@yorkopenstudios.co.uk. Stay in touch via social media: Facebook Twitter Pinterest Instagram
For press information, including interview opportunities with members of the York Open Studios committee and/or artists, please contact Kendra Grahame-Clarke at Kendra PR on 07910 214474 or email Kendra@kendrapr.co.uk
____