What's On at Bolton Castle, Leyburn
Thursday, 21st March 2019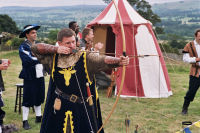 Bolton Castle near Leyburn, North Yorkshire:
What's On: A Spring and Summer Time Full of Fun and Wonder
Commanding outstanding views across the Yorkshire Dales, Bolton Castle in Wensleydale boasts one of the most romantic settings in Yorkshire. Built as a luxurious home by Sir Richard Le Scrope 600 years ago, Bolton Castle is one of the best preserved Medieval castles in the country and uniquely remains under the private ownership of Lord Bolton, a direct descendant of Sir Richard.
Opening on 30 March for the 2019 season, the Castle provides a fascinating insight into life within its walls and gardens, with a range of opportunities to see, enjoy and learn how life – warts and all - really was at the castle across the centuries. The castle also holds a unique position in history as the host of Mary, Queen of Scots, purportedly held here in captivity for the longest time, and who enjoyed some luxury which the Scottish Queen will not have experienced at her previous residence, Carlisle Castle. Bolton Castle's The Solar, the family's well-appointed suite of rooms, held her and her many servants until her escape with the help of her supporters. Local history reveals that she was eventually recaptured nearby on a hill which today bears the name Shawl Hill, after her shawl was reportedly found revealing her whereabouts.
Brought alive by a series of events and activities for visitors of all ages, the castle with its five floors, and exceptional country gardens, including a maze and a small but perfectly formed walled vineyard, is the perfect day out for families of all ages, heritage buffs, educational groups and those who just want to enjoy the best that Yorkshire can provide as a day out. Events across the summer include fantastic falconry displays, weaving, woodworking and cookery demonstrations and re-enactment days, with easy parking, shop and café. Most events are free with entry. Opening fully for the summer season from Monday 1 April until 1 November 2019, the castle kick-starts the new season with a series of events created around fresh air and fun over the coming months.
Daily tickets from £9 per adult, £7.50 concessions and £35 for a family ticket (2 adults, up to 3 concessions (must include one child). Annual membership is available. Garden tickets start at £4.50 per adult. Tickets are available on arrival or online at https://www.boltoncastle.co.uk/buy-tickets-online/
For more information on Bolton Castle, visit https://www.boltoncastle.co.uk/
More./.. 1
Spring and Summer Events at Bolton Castle
Gardens Open
Saturday 30 March
From 10am to 5pm (last entry 4.15pm), enjoy the castle and its series of lovely walled gardens and delight in the burgeoning garden and magnificent views to blow away the cobwebs after a long winter.
Mother's Day Afternoon Tea
Sunday 31 March, open 12pm to 4pm, visitors celebrating Mother's Day can enjoy a free glass of fizz with afternoon tea in the café before or after you enjoy the castle and its gardens. Afternoon tea, with a pot of tea, delicious homemade sandwiches and cake at £12.50pp, booking not necessary.
Full Season Opening
From Monday 1 April, 10am to 5pm (last entry 4.15pm) Bolton Castle is open every day and admission includes access to a range of fun entertainment, including falconry displays, archery demonstrations, children's costumes, trails, calligraphy, Medieval games and wild boar feeding. Some activities are weather dependent, so please check the website if coming from afar. Please also check dates on the website when the castle is closed for private events.
Civil War Weekend
Saturday 13 April to Monday 15 April and Saturday 27 April to Sunday 28 April, 10am to 5pm
Free with admission, meet the men from the English Civil war, find out about their lives, their arms and their equipment and why they were fighting against the King. Handle their equipment and take part in their practise pike drill.
Tudor Weekend
Saturday 11 May to Sunday 12 May, 10am to 5pm
Free with admission, come and meet the Tudor household of Lord Scrope. Find out about their daily lives and some of the great changes that affected them. Join in with the activities and see how you would have fared as a Tudor. Learn about one of the castle's most famous guests, Mary Queen of Scots and learn how she spent her time at Bolton Castle during her six months of captivity. Enjoy the sights and smells of the Tudor kitchen, train as a member of the militia, meet the brewer, make a candle or follow the tour that covers five floors of the castle.
More./.. 2
Father's Day Lunch
Sunday 16 June enjoy a traditional lunch in our superb café with a free beer for Dad for £9.95 per person. Booking recommended.
Captain Savile's 15th Century Re-enactment Weekend
Saturday 29 June and Sunday 30 June 10am to 5pm. Free with admission. Exciting update to follow.
American Independence Day Burger Bonanza
Sunday 7 July
Enjoy the region's best locally sourced meats including our very own boar burgers at our celebration barbeque in the delightful Castle grounds. Weather dependent.
Paranormal Evening
Saturday 20 July 8pm to 2am - £37 per person, suitable for teenagers and adults only. Visit www.yorkshireghosthunts.co.uk for more information, but prepare to be enlightened and spooked!
Living History Weekend
Saturday 27 July and Sunday 28 July,10am to 5pm.
Free with admission. In 1461 a family feud over who had the right to be King, later to be known as the War of the Roses, had divided England. Thomas, Lord Scrope, owner of Bolton Castle, supported Richard, Duke of York, and later his son Edward, against King Henry VI of the House of Lancaster. He has joined Edward's army near York, but has left behind a small garrison to guard the castle. Come and met them, join in their work around the castle and find out how they conducted their daily lives. See the kitchens at work, have a go at archery, handle the weaponry of the period, make your own candle and enjoy a guided tour of the castle.
Medieval Tavern Evenings
Thursday 1 August and Thursday 8 August. An evening of Medieval music within the walls of the castle. Tickets available from www.medievalmusicinthedales.co.uk.
More./.. 3
Living History Weekend – Spanish Armada
Saturday 17 August and Sunday 18 August, 10am to 5pm.
Free with admission. The year is 1588. The Spanish Armada has been slighted in the Channel, and an English fleet has sailed to meet them. The castle garrison is on full alert although there is no news of how the battle is going. Have the invaders been defeated, or is a Spanish army already on its way to take the castle? Come and train with the soldiers and help defend the castle. You can also join in with the garrison's daily life. The soldiers will need to be fed, wood to be chopped and the basic necessities of everyday life in Tudor England be met.
ENDS
Bolton Castle
Nr Leyburn
North Yorkshire
DL8 4ET
Tel: 01969 623981 Email: info@boltoncastle.co.uk
https://www.boltoncastle.co.uk/
For media information and images, and photo and filming opportunities, please contact Kendra Grahame-Clarke at Kendra PR on 07910 214474 or email Kendra@kendrapr.co.uk
4