UKRAINE MUSICIANS PERFORM AT BOLTON CASTLE
Tuesday, 28th June 2022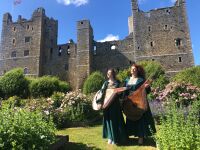 PRESS RELEASE 28 June 2022
UKRAINE MUSICIANS PERFORM AT BOLTON CASTLE
Two musicians from the Ukraine gave a special performance at Bolton Castle near Leyburn to raise funds for Ukraine charities on Monday 27 June. Julia Kogut-Kalynyuk and Kateryna Trachuk are classically trained professional musicians from Lviv, who form the duo Dvi Doli. Julia and Kateryna play the Bandura, a beautiful string instrument played in traditional folk music across the Ukraine. They arrived in the UK, via Poland, in just May.
With all proceeds going to Ukrainian charities, the duo also perform on Tuesday 28 June at Bolton Abbey. Their repertoire includes classical Ukrainian folk songs and jazz accompanied by the bandura and voice. The bandura is Ukraine's unique national folk instrument with 65 strings which combines elements of the zither and lute and has 17 more strings than the classical harp. Julia and Kateryna have been playing the bandura since they were 5 and 9 years old. They obtained Masters degrees in bandura and voice from the renowned Mykola Lysenko Lviv National Music Academy, Ukraine's leading musical conservatory.
Bolton Castle and gardens are open for the full summer season. For concert tickets please visit the Bolton Castle website www.boltoncastle.co.uk or click here.
ENDS
Notes to Editors:
This is the first performance by Dvi Doli in Yorkshire. Photo caption: Julia Kogut-Kalynyuk and Kateryna Trachuk (dark hair) with their instruments.
Bolton Castle
Commanding outstanding views across the Yorkshire Dales, Bolton Castle in Wensleydale boasts one of the most romantic settings in Yorkshire. Built as a luxurious home by Sir Richard Le Scrope 600 years ago, Bolton Castle is one of the best preserved medieval castles in the country and uniquely remains under the private ownership of Lord Bolton, a direct descendant of Sir Richard.
The Castle provides a fascinating insight into life within its walls and gardens, with a range of opportunities to see, enjoy and learn how life – warts and all - really was at the castle across the centuries. The castle also holds a unique position in history as the host of Mary, Queen of Scots, purportedly held here in captivity for the longest time, and who enjoyed some luxury which the Scottish Queen will not have experienced at her previous residence, Carlisle Castle. Bolton Castle's The Solar, the family's well-appointed suite of rooms, held her and her many servants until her escape with the help of her supporters. Local history reveals that she was eventually recaptured nearby on a hill which today bears the name Shawl Hill, after her shawl was reportedly found revealing her whereabouts.
Brought alive by a series of events and activities for visitors of all ages, the castle with its five floors, daily falconry displays and exceptional country gardens, including a maze and a small but perfectly formed walled vineyard, is the perfect day out for families of all ages, heritage buffs, educational groups and those who just want to enjoy the best that Yorkshire can provide as a day out. Most events are free with entry.
__
For more information on Bolton Castle, visit https://www.boltoncastle.co.uk/
For media information and images, and photo and filming opportunities, please contact Kendra Grahame-Clarke at Kendra PR on 07910 214474 or email Kendra@kendrapr.co.uk
___
Bolton Castle, near Leyburn, North Yorkshire, DL8 4ET
Tel: 01969 623981 Email: info@boltoncastle.co.uk https://www.boltoncastle.co.uk/
https://www.boltoncastle.co.uk/