The Wizards Magic Chocolate Launch New Taste New Look Bars
Thursday, 26th September 2019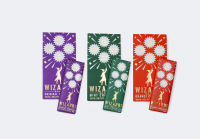 PRESS RELEASE 26 September 2019
New Taste, New Look, New Chocolate:
The Wizards Magic Chocolate Launches Three New-Look Bars
Innovative chocolatier, The Wizards Magic Chocolate, launches its 1% sugar, vegan friendly, gluten free and high fibre chocolate which is made in 100% recyclable packaging. It's available in three delicious flavours – original, mint and orange and aims to put York back on the global stage in the world of chocolate!
The founder Charlie Simpson-Daniel has a track record in the food industry with his first business venture Kings Elite Snacks going from start-up in 2014 to market leader, supplying all the major retailers in 2018, before selling to a global snacks group for £20m+.
Charlie founded The Wizards Magic because he believes that it's possible to enjoy great tasting chocolate without having to endure the 50% sugar levels available in market leading brands. He has put together a unique team which includes his original Kings co-founders, a former Managing Director of Redbull and Brewdog, a former Technical Director of Baxters Soup and Mike Tindall the Rugby World Cup Winner.
The founders believe they can start a chocolate revolution from the shelves of the 'free from' category in the major retailers. They believe they can offer those with special dietary requirements, used to eating dull flavourless chocolate, with a periodic table of ingredients with magic chocolate that simply doesn't compromise on taste or authenticity.
Charlie Simpson-Daniel, founder and former international rugby player, says: "All my journeys in the food industry to date have aimed to bring powerful health messages to consumers through products that do not compromise on delivering a delicious taste. The Wizards Magic is offering consumers the chance to enjoy indulgent chocolate that doesn't contain the usual 50% sugar but a tiny 1% sugar. It offers conscientious consumers making the huge sacrifice of going vegan a dairy free chocolate they can enjoy so they don't lose the ability to indulge in chocolate altogether due to their principled dietary sacrifices."
"As Europe's leading nation of diabetics we give those suffering with this a chance to enjoy their favourite snack and also those chocolate addicts with diabetes in their future the power to change this. After all, it would take eating 50 of our Magic Chocolate bars to consume the same sugar available in a single bar of chocolate being offered by the UK's current brand leaders. Most importantly for the planet we are offering 100% recyclable packaging and in six months' time will be offering not just 100% biodegradable packaging, but 100% compostable packaging, meaning you could bury a bar of our chocolate in its full packaging and it would simply return to the earth and end up as soil."
Facts (per 100g):
• 1% sugar – brand leaders in the UK contain up to 50%
• High in fibre – bars at 9.9% fibre are only slightly less fibre than Weetabix
• 60% cocoa solids – bars are rich in taste
• 100% dairy free so perfect for lactose intolerant consumers
• 100% Vegan friendly using natural ingredients which aren't dependent on animals for their delicious taste
• 100% Gluten free
• 100% Recyclable & in 6 Months will be 100% Compostable
• Two sized bars now available – 55g and a handy 20g
• RRP £1.99 per 55g bar and £0.99 per 20g bar
• Preparing to launch in major retailers
• Available through Amazon, and online at www.thewizardsmagic.com
Facts for Trade:
• Available in packs of 12 bars (55g) and 15 bars (20g)
• RRP £1.99 per 55g bar and £0.99 per 20g bar
• Shelf-life up to 12 months
• Call 01904 393 965 order online at www.thewizardsmagic.com or email charlie@thewizardsmagic.com
ENDS
NOTES TO EDITORS:
For more images, further details and interview opportunities, please contact Kendra Grahame-Clarke at Kendra PR 07910 214474 kendra@kendrapr.co.uk
The Wizards Magic Chocolate
Unit 2A Harwood Road
Northminster Business Park
Upper Poppleton
York, North Yorkshire
YO26 6QU
01904 393 965 www.thewizardsmagic.com
Photo Credit: Gareth Buddo