Sir Anthony Caro's 'Lagoon' Sculpture Unveiled in Peterborough
Friday, 6th July 2018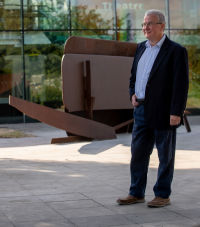 Gormley and now a Caro - Culture takes the lead in Peterborough
Vivacity celebrate their return of Lagoon by Sir Anthony Caro
Vivacity are thrilled to announce the unveiling of Lagoon by internationally renowned sculptor Sir Anthony Caro on 5th July. The two metre high, oiled mild steel sculpture has recently been restored and will be placed in its new home outside the Key Theatre. Vivacity have worked closely with Barford Sculptures, who manage the work of Anthony Caro, and Rupert Harris Restoration to achieve results akin to its original form. Those who have lived in Peterborough during the last three decades will remember the work being originally sited outside Stuart House in 1984 then Thorpe Meadows following this.
The return of Lagoon coincides with the exhibition Anthony Caro & Sheila Girling: A 64 Year Conversation about Art, currently on show at Peterborough Museum and City Gallery, which illustrates the relationship and influence of the late Caro and his wife Sheila Girling on each other's work. Like Caro, Girling worked large scale, creating monumental canvases using the technique of collage. She was the true colourist behind both her husband's work and her own, introducing vibrant magentas, reds and greens to their work. A programme of talks for the public has run alongside the exhibition, with the final lecture taking place on the evening of the celebration of Lagoon on 5th July at 6pm at Peterborough Museum.
The re-siting of this important sculpture follows the unveiling of Antony Gormley Places to Be on the top of three buildings in Cathedral Sq. With the development of Whitworth Mill managed by METAL offering space for growing artists, numerous annual arts festivals led by Vivacity and Peterborough Presents working across the city and the ongoing programming of highly commended exhibitions at Peterborough Museum and City Gallery, the momentum for arts in the city is rapidly building. Not to forget Peterborough Celebrates 900, honouring 900 years of the city's magnificent cathedral and the exciting series of events surrounding that such as Museum of the Moon, the arrival of Tim Peak's spacecraft and Peterborough Museum's Treasures. Culture in Peterborough is leading the way in the regenerating and development of the city.
-ENDS-
Notes for editors
For further press related information and images, please contact:
Sheena Carman Kendra Grahame-Clarke
Arts Programme Manager Kendra PR
07746410422 07910 214474
01733 864531 kendra@kendrapr.co.uk
About Vivacity
Vivacity is a non-profit organisation with charitable status, created in 2010 with the purpose of enriching the lives of Peterborough residents and visitors.
Managing over 20 venues covering library, heritage, theatre, art, and healthy living sites, Vivacity is committed to working with their partners and local organisations to bringing inspirational services to the Peterborough community.
Find out more about Vivacity and our offering by visiting https://www.vivacity-peterborough.com/
Notes about On Form the exhibition
Anthony Caro & Sheila Girling: A 64-Year Conversation about Art runs from 27 April - 21 July 2018 at Peterborough Museum & City Gallery
Opening times: 10am – 5pm, Tues to Sun (Inc. Mon's during school and bank holidays)
Entrance is free with the exception of special events where there may be an admission price for Peterborough Museum. Further details can be found via vivacity.org
Peterborough Museum & City Gallery
Priestgate
Peterborough
PE1 1LF