Ryedale School First Secondary School in North Yorkshire to Achieve Gold in Healthy Schools Award
Wednesday, 28th July 2021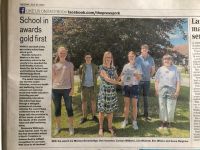 RYEDALE SCHOOL WINS FIRST 'GOLD HEALTHY SCHOOLS AWARD'
FOR A SECONDARY SCHOOL IN NORTH YORKSHIRE
Leading secondary school, Ryedale School in Nawton, has been awarded the Gold
Healthy Schools Award for the Active Lives and Emotional Health and Wellbeing by North Yorkshire County Council. The School is the first secondary school in North Yorkshire to be awarded Gold.
The North Yorkshire Healthy Schools award covers four key themes: Active Lifestyles, Emotional Health and Wellbeing; Food in Schools and Personal, Social and Health Education (including Sex and Relationships Education). The school has been through a stringent assessment process whereby the North Yorkshire County Council have confirmed they are very happy with the provision in all four areas, as well as the results of the student voice and staff wellbeing voice.
Domenica Wilkinson, head teacher says: "We are absolutely delighted with the award, and wish to thank our team Miss Wallis, Dr Williams and Miss Mussett, who worked so hard on our submission. We had confirmation from North Yorkshire County Council that it was an excellent submission, and really provided an insight into our school's commitment to health and wellbeing for our students and staff. To be the first secondary school in North Yorkshire to achieve Gold is brilliant recognition for our team. Well done to all involved."
ENDS
Photo Caption: L to R: Melissa Brownbridge, Ben Screeton, Dr Williams, Miss Mussett, Ben Wilson and Grace Deighton.
For PR opportunities and further details, please contact Kendra Grahame-Clarke at Kendra PR on 07910 214474 or email Kendra@kendrapr.co.uk.