Planning a future wedding in a Castle?
Monday, 9th March 2020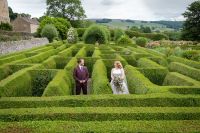 Ever dreamed of a wedding in a castle? Award winning Bolton Castle is one of the best preserved Medieval castles in the country and one of the few that commands uninterrupted views across a classic English valley. It is a truly beautiful setting and it can be yours for the day.
Nestled in the Wensleydale countryside near Leyburn in North Yorkshire, the castle has been included in The Independent's top 50 UK Best wedding locations and the team are proud to offer a venue where they've carefully managed the integrity of the heritage of the castle with the expectations of their bridal couples. They can provide 'fairy tale' and will work with couples on every detail to ensure it is the wedding of their dreams.
With different packages for every budget, be King and Queen for the day at Bolton Castle can call 01969 623981, email info@boltoncastle.co.uk or visit https://www.boltoncastle.co.uk/
Photo Credit: Lisa Kershaw at Drawn by Light Photography https://drawnbylightphotography.co.uk/