Paradise Re-found at Las Iguanas Liverpool
Wednesday, 17th October 2018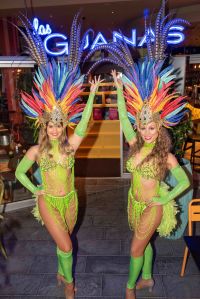 A NEW LOOK & A NEW MENU AT LAS IGUANAS
Latin American restaurant favourite Las Iguanas is celebrating ten years in Liverpool with a sparkling new look this October. The quirky restaurant décor reflects the team's regular tours to Brazil and beyond and guests will find new splashes of vibrant sunshine colour, improved bar areas for enjoying those famous happy hour cocktails, and a revamped piazza; the perfect spot to take a break from Christmas shopping at Liverpool ONE and watch the world go by overlooking Chavasse Park.
Las Iguanas Liverpool will reopen with the launch of the brand new Autumn/Winter menu. The menu has been carefully curated by a team of highly skilled chefs who bring to life the unique flavours from across Latin America using quality ingredients that are lovingly cooked from scratch. New dishes include Peruvian Smoked Salmon Tiradito, smoked salmon dressed in delicious tiger's milk (a dressing made with lime, ginger and Amarillo chilli) which will tantalise the taste buds. For the main event, try the Brazilian Carne de Sol – slow-cooked salt cured beef top rib served with cassava mash (a buttery manioc root mash), cassava crisps, winter greens and a rich beef and caramelised onion jus. For those guests with a bit more room, try the delicious Vegan Chocolate Coconut Tart served with a scoop of delicious dairy-free coconut ice cream.
For festive celebrations, groups can gaze at the fantastic Liverpool ONE Christmas lights while enjoying the mouth-watering Christmas menu. There is something for everyone including plenty of veggie and vegan options, and a taste bud tingling three course meal will transport diners to exotic lands. Dishes include Cha Cha Chorizo, Nachos Navidad, and Lechon Cuban Pork Belly, slow cooked with Mojo Criollo – an orange, garlic and oregano sauce - on sweet potato and kale mash topped with crumbled 'chicharrones' crackling will please any meat lover. Las Iguanas' Carnival Christmas menu will serve festive celebrations large and small from 30th November, throughout December and January for late Christmas parties.
For the second year running, Las Iguanas Liverpool will also be open for lunch on Christmas Day. Join the festivities and enjoy a selection of hearty mains including Roast Turkey with all the trimmings, Argentinean Beef Fillet Empanada served 'Wellington-style' and Asado Verduras, flame-grilled aubergine and cauliflower steaks served with halloumi fries. The menu includes an option for kids (under 12) making Las Iguanas the ideal choice for a family affair this year. What's more, adult guests will receive a complimentary glass of Cava or Brazilian Brahma beer upon arrival to start your Latin Christmas as you mean to go on. Reserving your table for Christmas is simple, just book online or call the restaurant and the team will accommodate your every need.
It's always Happy Days at Las Iguanas Liverpool - the perfect place to enjoy a post-shopping drink and cocktails are available 2 for 1 all day, every day – making every day a celebration! Stylish new additions include the Pom Pom Patron with Patron Silver tequila, honey pomegranate and lime. Las Iguanas commit to using premium spirits, including their own award-winning artisan Magnifica cachaça. Distilled by the de Faria family near Rio, it features in the famous Brazilian cocktail the Caipirinha. Try the new Guava Caipirinha with Magnifica cachaça, guava, chartreuse and lime, exclusive to the Autumn/Winter menu or ask about a Cocktail Trunk, the DIY cocktail mixing station brought to your table with your very own bottle of Magnifica cachaça (or Havana Club Rum for Mojitos). For those wanting something on the softer side, be reminded of warmer climates with the Rio Crush, made with grapefruit, Funkin passion fruit and cranberry. There's always a reason to celebrate at Las Iguanas.
Las Iguanas Liverpool relaunch: 16th October 2018
-ENDS-
PRESS ENQUIRIES
Kendra Grahame-Clarke at Kendra PR
Email: Kendra@kendrapr.co.uk
Telephone: 07910 214474