MAPIO Financial Services
Wednesday, 8th January 2020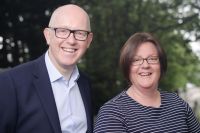 MAPIO Financial Ltd is a brand new financial services company focusing on mortgages and insurance protection. Founded by Liz Murdie and Scott Anscomb, who have been in the mortgage business for a combined 30 years, they saw a gap in the market for a family focussed company providing advice on mortgages, plus what they see as vital insurance protection.
MAPIO, which stands for Mortgages and Protection In One, aims to make mortgages easy, by daily checking the thousands on offer to find their customers the best deal. The team explains the jargon, and help people protect what matters, by providing the right insurance for customers. MAPIO is looking to build relationships with customers, advising and facilitating their mortgage and insurance needs throughout their lives. It's about loyalty and longevity, based on trust and professionalism.
Experienced mortgage and protection advisors Julie Taylor, who has been a mortgage broker for over 12 years in York, and John Moore with 40 years in the business, will share their expertise with customers who are either first time buyers, families moving home, or home owners looking to improve their current deal or insurance protection.
Scott Anscomb, who owns sister company, Your Move Anscombs on Colliergate in the centre of York where MAPIO is based, is an expert on the housing market in York and the surrounding area and considers that mortgages and the right insurances should go hand in hand. Key to Scott and business partner Liz, is the impartial advice, without affiliation to any specific provider, which they see as leading to long term 'financial relationships' with their clients thanks to MAPIO's excellence in service. The companies will be run independently of each other.
Liz says: "Mortgage deals change daily and there are usually thousands of mortgages to choose from. Julie or John will take an independent look at customers' income and outgoings and advise on what would work best. We recommend people have a financial review with MAPIO regularly just to check they are on the best deal and getting the most from their insurance to make sure their families are protected. It's an opportunity for us to offer our professional financial advice and as we are part of one of the UK's largest broker networks, PRIMIS, we're often able to source exclusive deals that are not available on the high street. It can be a complicated business and we're here to explain it without obligation. It really doesn't matter if customers are first time buyers, moving house, re-mortgaging, or just want some advice, MAPIO will take care of you."
"Our key goal is to be approachable, trustworthy and a pleasure to deal with and we hope to look after you throughout your financial life. We're looking to grow our business and we see a great future ahead, but we will not lose our hands-on and friendly approach to our customers to ensure they are well looked after financially."
Scott, co-founder of MAPIO adds: "The city of York offers a vibrant housing market, which in turn attracts a diverse range of buyers. Regularly included in 'best places to live' features, we are thriving as a marketplace and we want to maximise the opportunity to provide our years of experience to those looking for that support. MAPIO is a terrific opportunity for us to ensure the community is well served in financial advice and to spread our expertise further afield via our new website. It's an exciting time for a new business and we couldn't be located in a better city."
MAPIO's website www.mapiofinancial.co.uk is also launching today providing a wealth of information about mortgages and protection, a mortgage calculator and an online calendar to book appointments, at a time that suits their customers. The MAPIO team can offer both face to face meetings, and telephone/video conference calls.
MAPIO are proud to be supporting local charity York Against Cancer, donating £50 to the charity for every customer who recommends a friend who takes out a mortgage or protection plan with MAPIO. Customers will receive £50 of John Lewis vouchers each as a 'thank you' for their recommendation. To kick start the fund, MAPIO are donating £500 to York Against Cancer today.
Julie, senior mortgage and protection adviser at MAPIO says: "It's a privilege to be involved in the launch of a company that puts the customer first and the team here are delighted with the link with renowned local charity York Against Cancer. It's a win-win situation for us and for our customers, and I am really looking forward to sharing my expertise and meeting new customers, and of course seeing all my loyal customers that I have worked with over a number of years at our Colliergate location."
ENDS
MAPIO Financial Services, 31-32 Colliergate, York, YO1 8BN
Telephone: 01904 235000
Email: hello@mapiofinancial.co.uk
PHOTO CAPTION:
Image 1 Co-founders of MAPIO Scott Anscomb and Liz Murdie
Image 2 Mortgage & Protection Advisors Julie Taylor and John Moore
Image 3 New shop front on Colliergate, York, courtesy of Bower Spaces
Image 4 New branding on print, courtesy of Bower Spaces
Image 5 New window branding, courtesy of Bowers Spaces
https://www.bowerspaces.com/
For press interviews, more images and details, please contact Kendra Grahame-Clarke at Kendra PR on 07910 214474 kendra@kendrapr.co.uk
NOTES TO EDITORS
MAPIO Financial Limited is an Appointed Representative of Primis Mortgage Network, a trading name of First Complete Limited which is authorised and regulated by the Financial Conduct Authority. This firm usually charges a fee for mortgage advice. The amount of the fee will depend upon your circumstances and will be discussed and agreed with you at the earliest opportunity. YOUR HOME MAY BE REPOSSESSED IF YOU DON'T KEEP UP THE REPAYMENTS ON YOUR MORTGAGE.
Your Move Anscombs estate agent in York offers estate agency services throughout the city of York and across the Vale of York. Occupying one of the most prominent locations right in the heart of the city on Colliergate, Your Move Anscombs is one of the premier estate agents in this popular city. Click here for more information: Your Move Anscombs