Kemps General Store One of UK's 2018 #SmallBiz100
Thursday, 13th December 2018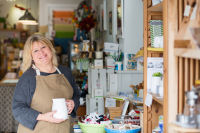 Kemps General Store in Malton Chosen as One of the UK's 2018 #Smallbiz 100
Small Business Saturday UK is a grassroots, non-commercial campaign, which highlights small business success and encourages consumers to 'shop local' and support small businesses in their communities. The day itself takes place on the first Saturday in December each year, but the campaign aims to have a lasting impact on small businesses. This year Small Business Saturday is once again highlighting 100 small businesses, one a day for the 100 days leading up to Small Business Saturday 2018.
For the last five years, the 100 have not only received exposure on Small Business Saturday's social media channels and in the local and national press, but also joined the Small Business Saturday team in London at receptions in both Downing Street and The Treasury Drum with the Chancellor of the Exchequer.
Liz Kemp, who owns Kemps General Store in Malton says: "We are thrilled to announce that we have been chosen as one of the 2018 #Smallbiz100. We will do all we can throughout the campaign not only to promote our business but also the fantastic independent business community in Malton."
-ENDS-
For more information, images and interview opportunities with Liz Kemp, please contact
Kendra Grahame-Clarke at Kendra PR on 07910 214474 kendra@kendrapr.co.uk
Notes to Editors:
Kemps General Store was founded in 2017 by Liz Kemp, a shopkeeper's daughter and passionate advocate of the delights of her now-home town, Malton. Liz grew up in the small village of Bramham, just over the way in West Yorkshire. Her mother and father ran a small shop in the village centre, on what was then the A1. Growing up in such an environment made its mark on Liz, who saw first-hand the care and attention her parents put into running the successful business.
Real customer service existed then, even if it had no name. There was a profound recognition you were relied upon as a business – customers needed to know that you would be open when you said you were.
More./..
Kemps General Store/#Smallbiz100 Continued./..
The focus was always on being able to help meet your customer's needs, whether that was providing them with the things they wanted or needed, or showcasing new things which they may have never seen before.
After 20 years in the demanding events industry, managing a portfolio of million pound events for international clients, Liz decided that it was time to honour her childhood roots and take on a new challenge. She decided to set up shop, but not just any shop, an emporium of the beautiful and unusual to be exact! Kemps General Store is a place for people to browse and lose themselves in, a source of fascination and delight, in her adopted home of Malton. Alongside curating a range of imaginative and mostly UK made products, Liz's vision was to re-create the welcoming and vibrant atmosphere her parents had cultivated over 40 years ago.
Kemps General Store, Re-Established 2017
Today the shop stands as a testament to tradition and the old ways of doing things, a small oasis which reflects a slower, calmer way of life. However alongside heritage, there is also certainly room for the new. Whilst the service may be exactly the same as all those years ago, the products are decidedly much more exciting! Long before opening the doors, Liz hunted up and down the UK for the best of British - looking for exciting new brands and beautiful contemporary designs.
**
Kemps General Stores
13 Market Place
Malton, YO17 7LP
01653 693577
https://www.kempsgeneralstore.co.uk/
**