Kemps Comes Over all Bookish!
Thursday, 1st October 2020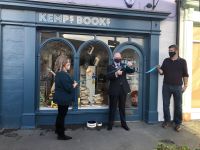 Award winning gift shop, Kemps General Store, has moved to a much larger shop just next door to their current one on Malton's Market Place. There they have added Kemps Books – a proper bookshop under the same roof.
Liz Kemp who owns and runs Kemps General Store, aims to build on their reputation as the 'go to' gift buying destination, with the focus of the book collection not just on selling an excellent range of books for all tastes, ages and interests, but with an aim to engage book buyers in related items and events which will appeal to their existing customers and attract new to Malton.
Liz, who also owns Kemps on the Coast in Whitby, is delighted with the new move:
"It's been a while in the planning, and despite the ongoing Covid-19 situation, I jumped at the chance as we now have more space for stock and customers alike, helping us meet our Christmas demand and maintain a safe and comfortable shopping environment for our customers. My family has always worked in retail and I was brought up above a shop, so retail is in my blood. I have always loved books and bookshops so I'm thrilled to be able to bring one to Malton as part of Kemps.
The books will be a mix of good reads, gift books, an expansion of our current wide non-fiction collection and a significant children's section, all showcased within a dedicated informal and inspiring space. It is tremendously exciting for the Kemp's brand and the new space lets me share my love of books and reading, while ensuring we offer something for everyone."
In the move next door, Kemps General Store continues its unique style, with the same quality benchmark on content and service, imaginative curation of books and gifts, and Liz hopes her customers will enjoy more choice, more books and a better shopping environment.
In due course, Liz will extend her popular home gifts' buying evenings, craft workshops and the bookshop will be a place to visit for book events such as evenings with authors for talks and signings. During lockdown, Liz has been busy providing mail-order, an online shopping function and Skype shopping experiences to her customers and, with both existing shops now fully open, Liz is looking forward to welcoming her customers to pick up a good read.
-ENDS-
More./..
Continued./..
For more information, images and interview opportunities with Liz Kemp, please contact
Kendra Grahame-Clarke at Kendra PR on 07910 214474 kendra@kendrapr.co.uk
Notes to Editors:
In 2018 and 2019 Kemps General Store in Malton was included in the coveted UK's 2018 Small Business Saturday in which just 100 businesses across the country are nominated annually. Kemps was also a finalist in the UK's Best Newcomer Award for the Greats Independent Gift Retailer of the Year and was shortlisted for a FSB Celebrating Small Business Award 2019. Kemps is currently shortlisted again in the prestigious Greats Independent Gift Retailer Award for 2020 this time as Best Northern Independent Gift Retailer Liz is currently involved in filming a major BBC documentary on being an independent retailer and employer in the UK during Covid-19 due for broadcast in November. Watch this space for more information.
Kemps General Store, Re-Established 2017
Today the shop stands as a testament to tradition and the old ways of doing things, a small oasis which reflects a slower, calmer way of life. However alongside heritage, there is also certainly room for the new. Whilst the service may be exactly the same as all those years ago, the products are decidedly much more exciting! Long before opening the doors, Liz hunted up and down the UK for the best of British - looking for exciting new brands and beautiful contemporary designs.
Kemps on the Coast, opened September 2019
Kemps on the Coast also retains the ethos of 'things you most certainly want and even need – and something more unusual ….' and adds a dash of the great British seaside and elements unique to Whitby: a treasure trove of delightful products – 'it's Kemps but with a salty twist'.
Kemps General Store & Kemps Books
11 Market Place
Malton, YO17 7LP
www.kempsgeneralstore.co.uk
Kemps on the Coast
10 Grape Lane
Whitby YO22 4BA
https://www.kempsonthecoast.co.uk/