Is that Bolton Castle or Dragonstone?
Thursday, 17th September 2020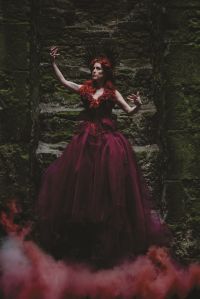 Is that Bolton Castle or 'Dragonstone'?
Beautiful Bolton Castle is often hired as a backdrop for films and TV dramas, thanks to its extraordinary setting and the little evidence of 21st century life within and surrounding the castle. Late last year, the castle played a key part in a recent photo shoot for the UK's premier Alternative Wedding Magazine – a glossy publication showcasing weddings with a difference. The 'Game of Thrones-style' photographs have been published and the team at the castle are proud to show Bolton Castle as you've never seen it before.
The shoot team from the magazine created a range of wedding settings to inspire couples who wanted something just that little bit more and Bolton Castle truly played its part. This complex, well-organised photo shoot included a team of models, hair and make-up artists, a range of dresses and accessories, shot with an overall moody feel and a muted colour pallet which complimented the castle beautifully. The magazine team then added a stunning white stallion and fire eaters, plus themed wedding cakes, and the shoot was complete.
Jacqui Naylor, general manager at Bolton Castle says: "We love all types of weddings and we are privileged to have hosted a diverse range of themes in our time. Couples love our Owl delivering the wedding rings, our roaring fires and fabulous views, so we are very lucky to have such a beautiful location to work with. This photo shoot was just as detailed as a film shoot, and required much planning. For once we didn't want a sunny day! We absolutely loved working with the Alternative Wedding Magazine and we're delighted to share the results." Visit Alternative Wedding Magazine Autumn issue for the full feature.
The team at Bolton Castle would love to help you craft your wedding and create the unique wedding you've dreamed of. Call 01969 623981, email info@boltoncastle.co.uk or visit the website www.boltoncastle.co.uk
Feeling inspired! Check out our current offer: Bolton Castle is offering £1,000 off a wedding booked for 2021 and 2022 Terms & Conditions: Weddings must be booked in 2020 for a date in 2021/2, excludes weddings already booked, and subject to a deposit paid and availability. The £1,000 discount will be applied to the final invoice.
For info on weddings, visit: Weddings at Bolton Castle
ENDS
NOTES TO EDITORS
We are open! Please note masks/facecoverings must be worn within the castle and we ask you to please book ahead if at all possible. Book tickets online We adhere to Government Guidelines on COVID-19 and we are proud to have achieved the 'We're Good to Go' Industry Standard confirming we have followed Government and Industry guidelines, with a risk assessment in place and process for maintaining cleanliness and social distancing. Please visit our website for entry details to help make your visit as memorable and safe as possible. Bolton Castle
For media information and images, and photo and filming opportunities, please contact Kendra Grahame-Clarke at Kendra PR on 07910 214474 or email Kendra@kendrapr.co.uk