Five Reasons to Enjoy Palma this Christmas
Thursday, 1st December 2016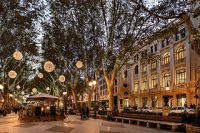 Five reasons to enjoy Christmas in Palma
MallorcanTonic, the savvy off-season holiday website which offers added-value and discounts for travellers to this Spanish island out of season, suggests Five reasons to enjoy a Christmas in Palma. MallorcanTonic founder, Deirdre O'Connor thinks Mallorca´s magically lit city of Palma is one of the best in Europe at this time of year.
1. The Weather
Don´t go `dashing through the snow with a one horse open sleigh ´, come and visit Palma! In November and December, Palma is on average ten degrees warmer than any northern European city and you will enjoy at least 6 or 7 hours of sunshine and daylight.
2.The Christmas Lights
Every street, plaza and avenue is ablaze and I truly believe that Palma wins first prize of any city in Europe for putting on the best display at this festive time of year. You will be spell bound.
3.The Christmas Markets
We are completely spoiled with Christmas markets in and around Palma. They run from mid November through December and into January to the eve of the festival of ´The Three Kings `on 5th January. My favourite Christmas Markets are Poble Espanól in Palma (6th – 11th December) and the Puerto Portals Christmas Market ( 6th December -5 th January). The Christmas Market at Portals with its glitzy shops and restaurants fits right in, with stall holders travelling from all over Europe to bag a spot here. So take a trip to a market and stroll around the tinselled stalls, sipping hot mulled wine. There is also a great market in the beautifully lit Plaza Mayor in Palma with handmade souvenirs and wide selection of traditional hand painted nativity figures known as "Belenes".
4.The Mallorcuisine
In the Advent season Mallorcan Christmas recipes that have been passed down through generations are offered at many of the eateries around Palma as well of course as tantalising traditional tapas. The Christmas holiday itself starts with a huge dinner on Christmas Eve and doesn't let up until the final slice of Roscón de Reyes cake is finished on Three Kings Day on January 6.
Don´t leave without taking a souvenir of turrón with you. There are umpteen types of turrón, the classic recipe is honey, almonds, sugar and egg whites, but the typical Mallorcan turrón is thinner with almond paste in between sheets of rice paper or 'neulas'. Less calories and more room for an ensaimada in the luggage as well!
5.The Shopping
You are spoilt for choice with the shopping in Palma. Whether you are coming for a well made leather goods, jewellery, designer fashion or home furnishings with a difference, Palma has it all. Wander down Avinguda Jaime III into any of the shops under the arcade, cross over Passeig del Borne and enter the little streets of the Old Town to visit the numerous unique and beautifully decorated shops that will delight at every turn.
All of the Palma hotels in the `Sleep´ section are offering MallorcanTonic clients a Tonic Bonus for winter. Click the `Discover deals´button and search out a `Unique Experience´ or book a restaurant offering a complimentary glass of Cava.
Salut! Festes de Nadal !
For more information on MallorcanTonic, visit http://mallorcantonic.com/ or email mallorcantonic@gmail.com
MallorcanTonic is a new website that promotes holidaying on the Spanish island of Mallorca in autumn, winter and spring, with inspiration on what to do and where to go, plus price saving opportunities and added value, incentivising visitors to holiday outside of the traditional summer season. Devised by travel aficionado Deirdre O'Connor, this 'savvy off-seasoning' website showcases the best of everything available for the discerning traveller, compiled with a keen eye on what makes the island so unique off season.
For press information, contact Kendra Grahame-Clarke at Kendra PR on 01904 234 752 m. 07910 214474 or email Kendra@kendrapr.co.uk
https://twitter.com/mallorcantonic
https://www.facebook.com/mallorcantonic/