Emmerdale Village Tour Wins Visit England Award
Thursday, 14th February 2019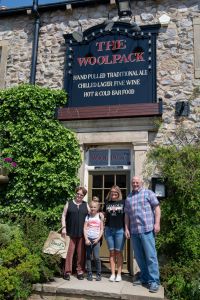 PRESS RELEASE 14.2.19
Continuum Attractions' Emmerdale Village Tour Wins Quality Award from VisitEngland
Continuum Attractions' Emmerdale Village Tour has won VisitEngland's prestigious award for the Best Told Story for 2018.
Following an annual assessment by VisitEngland, the Emmerdale Tour was one of 76 attractions around the country that have been awarded an accolade, based on the score they obtained following their Visitor Attraction Quality Scheme assessment. The attraction has been acknowledged as a result of the outstanding experience in story-telling that it provided.
Nikki Jacobs, General Manager of the Emmerdale Village Tour said: "This award is a fantastic win for us. VisitEngland's Best Told Story award is the epitome of what we're providing for our visitors and we're very proud to be the recipient. The challenge for the destination market is that visitors now expect a more immersive experience and we've worked hard to ensure the Emmerdale story is told in a manner that appeals to everyone and encompasses all that this nationally renowned programme holds at its heart – a drama built on family, friends and foes in a West Yorkshire village – our priority is that the tour includes a story that works for fans as well as those looking for time well spent."
Jules Ozbek, Head of Sales and Marketing at Continuum adds: "We are delighted for the team who work hard to bring the Emmerdale story alive and engage all our visitors with this exceptional visitor destination. Only three attractions in Yorkshire achieved accolades in 2018, so we are thrilled to receive the recognition from VisitEngland. Our USP remains a constant, to provide exceptional engagement with our visitors and offer them a special experience that sets us apart from our competitors. The Emmerdale Village Tour sets the standard and provides a great example too of how we can collaborate with organisations to help them tell their story in a truly unique way."
Continuum announced in December that it had ended the year with a celebration of its largest haul of awards since the company was founded in 1984, including a previous win in 2018 from VisitEngland with Gold for York's Chocolate Story for the Best Guided Tour.
ENDS
Continuum Attractions develop and commercially operate attractions and experiences in England, Wales and Scotland. The group portfolio is conceived, created and operated within the UK, which are wholly owned or developed together through relevant partnerships.
For more details on Continuum Attractions, visit Continuum Attractions.
Continuum Attractions
Continuum Attractions brings stories alive for visitors and continues to create and manage diverse and market-defining visitor attractions across the country. Starting in 1984 with the Jorvik Centre in York, Heritage Projects Ltd was born, setting the standard in creating visitor attractions commensurate with the needs, interests and desires of the evolving visitor market. More successful attractions were created in 1988 with The Canterbury Tales and The Oxford Story, followed by The White Cliffs Experience in partnership with Dover County Council, and Enjoy a Day at the Wells in Royal Tunbridge Wells. In 2000, the company was renamed the Continuum Group, eventually to evolve into Continuum Attractions, with the creation of The International Centre for Life in Newcastle under its belt. From 2003 to 2017, other attractions benefiting from Continuum's expertise included The Real Mary King's Close in partnership with the City of Edinburgh Council, Emirates Spinnaker Tower in partnership with Portsmouth City Council, Oxford Castle Unlocked in conjunction with Oxford Preservation Trust and the Heritage Lottery Fund, The Museum of Kent Life with Maidstone Borough Council, The Crystal with Siemens in London, York's Chocolate Story, Emirates Air Line Cable Car in London, and in partnership with ITV, Coronation Street The Tour in Manchester and Emmerdale Village Tour and Emmerdale Studio Experience in Leeds, the Royal Mint Experience in London and the Greenwood Forest Park in Wales, plus other tailored consultancy projects.
At Continuum, we believe the best memories come from great storytelling delivered well; we have found that people-to-people engagement delivers this best of all. Our well-versed team of facilitators and interpretation specialists interact and engage with the visitor to make the experience both personal and memorable.
_
For more information on Continuum Attractions, please contact Kendra Grahame-Clarke at Kendra PR on 07920 124474 or email Kendra@kendrapr.co.uk
For more information on VisitEngland's Awards click here