Continuum Attracts New Creative
Friday, 9th November 2018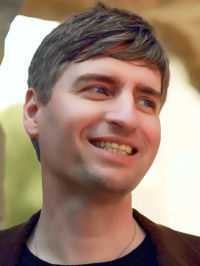 PRESS RELEASE 6.11.18
Continuum Attracts New Creative
Continuum Attractions, one of the UK's leading visitor attractions companies, has appointed Craig Hatto as Director of Design & Creative Experience. A new post for the company, Hatto's appointment reflects Continuum's drive to provide unique and innovative visitor experiences and remain at the forefront of the 21st century visitor market.
One of the largest attractions organisations in the country with sites in England, Scotland and Wales within its portfolio, Continuum Attractions develop and commercially operate attractions and experiences. The group portfolio is conceived, created and operated within the UK, which are wholly owned or developed together through relevant partnerships.
Hatto's national role will drive design and creativity across all elements of the business and ensure the company is at the cutting edge of developments.
Craig Hatto, joins Continuum from Historic Royal Palaces and comes with over 25 years' experience, working globally within both the commercial and cultural attractions industries, directing and creatively developing capital projects and award winning experiences, exhibitions and brand environments. Hatto will spearhead and develop the group's current creative future plan strategies, commencing with the newly acquired Greenwood Forest Park, North Wales; York's Chocolate Story; The Real Mary King's Close, Edinburgh and the unique Emirates Spinnaker Tower, Portsmouth.
Says Hatto: "It's a privilege to work with such a farsighted organisation, and a company that is open to new ideas to challenge perceptions of what visitors with diverse interests want from a day out. At our heart, the daily visitors' experience remains core, but options for alternative opportunities to maximise their time on site and add value to their visit is key. We want to attract new and diverse visitors and demographics, sustain and engage existing members by engendering loyalty and above all, remaining true to our cause; delivering innovative, entertaining and fun experiences that touch the heart and create experiences that are personal and memorable. We want our guests to talk about and recommend to others for years to come. How we stand out from this busy market-place is crucial, and I look forward to thinking unique, thinking big and thinking business."
Juliana Delaney, CEO at Continuum adds: "Craig's ability to think outside of the box combined with a keen commercial acumen means we can provide the best for our visitors, and the best for potential partners. His experience and skills honed at HRP add another dimension to our offer, and we are delighted to have him on board."
ENDS
More./..
For more details on Continuum Attractions, visit Continuum Attractions.
Continuum Attractions
Continuum Attractions brings stories alive for visitors and continues to create and manage diverse and market-defining visitor attractions across the country. Starting in 1984 with the Jorvik Centre in York, Heritage Projects Ltd was born, setting the standard in creating visitor attractions commensurate with the needs, interests and desires of the evolving visitor market. More successful attractions were created in 1988 with The Canterbury Tales and The Oxford Story, followed by The White Cliffs Experience in partnership with Dover County Council, and Enjoy a Day at the Wells in Royal Tunbridge Wells. In 2000, the company was renamed the Continuum Group, eventually to evolve into Continuum Attractions, with the creation of The International Centre for Life in Newcastle under its belt. From 2003 to 2017, other attractions benefiting from Continuum's expertise included The Real Mary King's Close in partnership with the City of Edinburgh Council, Emirates Spinnaker Tower in partnership with Portsmouth City Council, Oxford Castle Unlocked in conjunction with Oxford Preservation Trust and the Heritage Lottery Fund, The Museum of Kent Life with Maidstone Borough Council, The Crystal with Siemens in London, York's Chocolate Story, Emirates Air Line Cable Car in London, and in partnership with ITV, Coronation Street The Tour in Manchester and Emmerdale Village Tour and Emmerdale Studio Experience in Leeds, the Royal Mint Experience in London and the Greenwood Forest Park in Wales, plus other tailored consultancy projects.
At Continuum, we believe the best memories come from great storytelling delivered well; we have found that people-to-people engagement delivers this best of all. Our well-versed team of facilitators and interpretation specialists interact and engage with the visitor to make the experience both personal and memorable.
_
For more information on Craig Hatto's appointment, interview opportunities and more details about Continuum Attractions, please contact Kendra Grahame-Clarke at Kendra PR on 07920 124474 or email Kendra@kendrapr.co.uk
__