Caroline Fisher Projects: A Life in Blue & White
Monday, 10th June 2019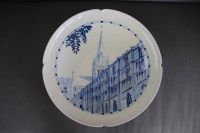 Press Release
A life in blue and white- the porcelain of Grahame Clarke
Caroline Fisher Projects
93a Upper St Giles Street, Norwich, NR2 1AB
Saturday 6 July to Saturday 14 September 2019
Open 1pm- 5pm, Fridays and Saturdays and by appointment at other times
Closed 4 -31 August Private view open to all, 5 July, 5pm- 7pm
Grahame Clarke (1942- 2014) was an artist in clay. He trained in the English studio pottery tradition, but over his lifetime he refined his process of making and decorating porcelain that was as fine and inventive as some of the greatest Chinese practitioners.
This exhibition will show a range of work kindly loaned by Grahame's family and friends, from the earliest to the later periods of Grahame's career. There are stunning bowls and platters decorated with scenes from nature and his environment in Norfolk as well as more abstract designs from the earlier part of his career influenced by Danish design and artists such as Eduardo Paolozzi.
Curator and gallery owner, Caroline Fisher says of the exhibition:
"When I was learning about porcelain in 2011-2012, Grahame kindly allowed me to assist him in his studio, as he fulfilled his final few commissions. I remember being in awe of Grahame's skill when watching him at work; preparing clay, decorating bisque ware, and particularly throwing porcelain on his homemade kick wheel. He made it look absolutely effortless."
"So it is a great privilege to launch this exhibition, the first to show Grahame Clarke's work since his untimely death in 2014. The way that Grahame matched fineness of production, useable form and charming decoration is what makes his work unique. I hope that the exhibition will give people an insight into the work of this immensely talented but modest craftsman and artist."
Grahame's family say:
"Growing up, our father's tableware and decorative pieces played an integral part in our home life. He always wanted his work to be practical and hardy, beautifully designed so that spouts poured properly, handles were comfortable to hold and lids fitted well. His unique glazes and shapes set the standard, and ensured we were fed from only the very best tableware. His larger vases and bowls were always generous and often humorous, latterly in porcelain featuring snapshots of his life in the Norfolk countryside. He loved ceramics in all its forms and today his work and his collaborations remind us of a special father, a skilled craftsman, and a life well lived."
The pieces chosen for the exhibition include some of the largest and technically demanding that Grahame made. Mostly blue and white porcelain, they were fired to a high temperature to achieve the whitest porcelain and brightest blue decoration. The forms show a high degree of skill in throwing and their decoration includes natural scenes, Norfolk landmarks and more abstract and stylised designs.
Biography
As a teenager, Grahame was briefly an apprentice to Harry and May Davis at Crowan Pottery in Cornwall, where he learnt how to be fastidious about the techniques of production pottery, primarily using stoneware clay. He attended Hornsey College of Art, followed by a postgraduate degree in ceramics at the Royal College of Art, graduating in 1962. He later learnt the art of decorating porcelain in Stoke on Trent, predominantly with Royal Doulton, and in Denmark, working for the Bing and Grondhal ceramic works in Copenhagen. These contrasting experiences gave him a lifelong interest in fitting the decoration of his work to form and function. His interest in Chinese ceramics also influenced the way that he decorated his work and he began to collect pieces when he could afford to.
Having established himself as a potter in London, Grahame returned to teach at the Royal College of Art, later becoming a Senior Lecturer in Ceramics and Glass. He became friends with Eduardo Paolozzi who was interested in the potential for modernist decoration on clay surfaces. Two unique platters/bowl will be shown in the exhibition that have Paolozzi's decoration in cobalt blue and are both signed by Paolozzi, Clarke and his student David Grant.
Together with fellow RCA lecturer David Douglas, Marquess of Queensberry and David Grant, Grahame set up Highland Stoneware and advised David Grant on semi industrial processes required for production on a larger scale. Despite visiting Scotland and close involvement with the Highland Stoneware enterprise, Grahame remained in London and worked increasingly in porcelain, setting up his own venture, Grahame Clarke Porcelain, in Barnet. He developed a high fired porcelain clay, a Chinese style clay body, which was thrown or cast and then decorated with scenes and motifs from his own experience in London and later Norfolk, but inspired by blue and white Delftware and Lowestoft porcelain.
Grahame was constantly supported by his wife, Christine and in 1990 they found a historic Old Hall to renovate just to the west of Norwich. He set up his studio and a small shop there and became involved in the Norfolk artistic scene while still retaining links to London and taking commissions from David Leach, Heals in London, Jane Churchill, Thomas Goode and from many private individuals. He also continued to do what he loved best, developing new designs in porcelain that married form, function and decoration.
Sadly, Grahame died in 2014 after a short illness but his legacy lives on in his beautiful work, treasured by all who enjoy and use it.
Studio pottery from the '60s and '70s
Concurrent with the exhibition, Caroline Fisher Projects will have a selection of studio pottery for sale, including David Leach, Robert Tinnyunt, Andrew Hague and Coxwold Pottery. The pieces all come from a single Norwich collection and were acquired over many years- however the collection is now being sold. There will be something for everyone, from reasonably priced bowls and mugs to larger pieces.
Notes to Editors
Caroline Fisher Projects is a gallery specialising in ceramics in Norwich, UK. It was set up in November 2018 to show mainly contemporary ceramic makers and artists using clay in a more sculptural way. Caroline Fisher Projects also aims to support ceramic artists through a residency programme (commencing 2020) and small grants.
On the first Friday of the month during exhibitions, a 'Clay Conversation' takes place giving practitioners, collectors and enthusiasts an opportunity to visit the exhibition, hear more about it and become involved in the conversation around the current place of ceramics within culture. Dates: Friday 2 August, Friday 6 September, 11am.
Website:
www.carolinefisherprojects.org
Email:
hello@carolinefisherprojects.org
Facebook:
https://www.facebook.com/carolinefisherprojects/
Instagram:
@carolinefisherprojects