Bolton Castle Wins Business Award
Wednesday, 3rd February 2021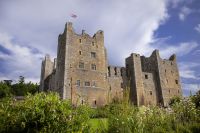 Bolton Castle Announces Northern Enterprise Award
Bolton Castle is a winner in one of the UK's premier business awards, the Northern Enterprise Awards 2020 by SME News. For the category Visitor Attraction of the Year - Yorkshire, Bolton Castle's win was based on a range of business challenges, including balancing the needs of a visitor destination with the sensitivity of caring for a heritage property of historical significance. The team are delighted with the news.
Jacqui Naylor, general manager at Bolton Castle, says: "We have worked especially hard in the last year to ensure Bolton Castle's visitor offer is commensurate with the challenge of the 21st century visitor market, and we are always mindful of the heritage of this medieval castle. Of course, this year has been especially challenging but we managed to successfully open over the summer. Bolton Castle plays a major part within the community and the team who help manage the castle have seen their commitment to their work rewarded by this marvellous award. We look forward to welcoming back our visitors as soon as safely possible in 2021."
Bolton Castle, located close to Leyburn in North Yorkshire, runs a comprehensive programme of family events over the main open season. The castle is also a stunning wedding destination and an in-demand filming location.
ENDS 3 Feb 2021
Notes to Editors:
Northern Enterprise Awards 2020
Spearheaded by SME News, a quarterly digital publication aimed at those who own, run or assist in the running of small and medium-sized businesses within the UK, SME News, by way of its digital magazine, website and social media outlets, provides a valuable tool to SMEs and their leaders for running their business day to day, seeking the best advice and for growing and succeeding in their endeavours. For more about the awards, visit Northern Enterprise Awards 2020
About Bolton Castle
Commanding outstanding views across the Yorkshire Dales, Bolton Castle in Wensleydale boasts one of the most romantic settings in Yorkshire. Built as a luxurious home by Sir Richard Le Scrope 600 years ago, Bolton Castle is one of the best preserved medieval castles in the country and uniquely remains under the private ownership of Lord Bolton, a direct descendant of Sir Richard.
The Castle provides a fascinating insight into life within its walls and gardens, with a range of opportunities to see, enjoy and learn how life – warts and all - really was at the castle across the centuries. The castle also holds a unique position in history as the host of Mary, Queen of Scots, purportedly held here in captivity for the longest time, and who enjoyed some luxury which the Scottish Queen will not have experienced at her previous residence, Carlisle Castle. Bolton Castle's The Solar, the family's well-appointed suite of rooms, held her and her many servants until her escape with the help of her supporters.
Brought alive by a series of events and activities for visitors of all ages, the castle with its five floors, daily falconry displays and exceptional country gardens, including a maze and a small but perfectly formed walled vineyard, is the perfect day out for families of all ages, heritage buffs, educational groups and those who just want to enjoy the best that Yorkshire can provide as a day out. Most events are free with entry. The castle is currently closed for the winter season.
For more information on Bolton Castle, visit https://www.boltoncastle.co.uk/
For media information and images, please contact Kendra Grahame-Clarke at Kendra PR on 07910 214474 or email Kendra@kendrapr.co.uk
___
Bolton Castle, near Leyburn, North Yorkshire, DL8 4ET
Tel: 01969 623981 Email: info@boltoncastle.co.uk https://www.boltoncastle.co.uk/
https://www.boltoncastle.co.uk/