Bolton Castle a Finalist in White Rose Awards 2020
Monday, 3rd August 2020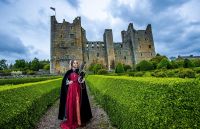 We're a Finalist in the White Rose Awards!
Bolton Castle Announces Exciting News
Bolton Castle has been included as a finalist in the UK's premier tourism awards, the White Rose Awards 2020. Shortlisted in the Small Visitor Attraction category, Bolton Castle is up against stiff opposition but the team remain optimistic for the winner's announcement in the autumn.
Tom Orde-Powlett, whose family own Bolton Castle and who is a direct descendant of Sir Richard Le Scrope who built the castle 600 years ago, is delighted with the news: "We have worked especially hard in the last year to ensure Bolton Castle's visitor offer is commensurate with the challenge of the 21st century visitor market, but also we are mindful of the heritage of this medieval castle. It is a labour of love, and we couldn't be more thrilled to even be shortlisted in these prestigious awards. I am thrilled that we have reached this stage and it is a huge pat on the back to the team here, whose hard work and welcoming attitude it reflects."
Jacqui Naylor, general manager, adds: "Bolton Castle is so deserving of being included in the finalists' list and we are very proud to have come this far. Bolton Castle plays a major part within the community and in our team's lives and their love and commitment to their work is evident to all our visitors. We have everything crossed for the winner's announcement later this year."
Bolton Castle, located close to Leyburn in North Yorkshire, is running a comprehensive programme of family events over the summer. The Bolton Castle team ask visitors to book ahead and adhere to the Government's guidelines on Covid-19. The castle also provides a stunning wedding destination, currently offering £1,000 off weddings* booked for 2021. *Please visit the website for further information and for terms & conditions on wedding bookings.
ENDS
Notes to Editors:
Bolton Castle reopened in July and is open every day 10am to 5pm. Mindful of the government guidelines, we have made some changes to our visitor admission and flow around the castle to ensure our visitors can self-distance as much as possible during their time here. Facemask/coverings will be required within the castle. Your safety is our priority but we will do our very best to make your visit as easy and memorable as possible. Our revised events schedule and activities have also been amended to reflect current Government guidelines, but we are keen to retain a fun and informative programme for our visitors. See the website for details of entry and events across the summer to October.
We would be grateful if tickets could be booked online ahead of your visit. Online Bolton Castle Tickets Visitors who have already booked will be given priority on arrival. This will enable us to monitor visitors' arrival and limit cash transactions. If you do not have a pre-booked ticket, please be patient if you are asked to wait for as minimum amount of time as possible.
About Bolton Castle
Commanding outstanding views across the Yorkshire Dales, Bolton Castle in Wensleydale boasts one of the most romantic settings in Yorkshire. Built as a luxurious home by Sir Richard Le Scrope 600 years ago, Bolton Castle is one of the best preserved medieval castles in the country and uniquely remains under the private ownership of Lord Bolton, a direct descendant of Sir Richard.
The Castle provides a fascinating insight into life within its walls and gardens, with a range of opportunities to see, enjoy and learn how life – warts and all - really was at the castle across the centuries. The castle also holds a unique position in history as the host of Mary, Queen of Scots, purportedly held here in captivity for the longest time, and who enjoyed some luxury which the Scottish Queen will not have experienced at her previous residence, Carlisle Castle. Bolton Castle's The Solar, the family's well-appointed suite of rooms, held her and her many servants until her escape with the help of her supporters. Local history reveals that she was eventually recaptured nearby on a hill which today bears the name Shawl Hill, after her shawl was reportedly found revealing her whereabouts.
Brought alive by a series of events and activities for visitors of all ages, the castle with its five floors, daily falconry displays and exceptional country gardens, including a maze and a small but perfectly formed walled vineyard, is the perfect day out for families of all ages, heritage buffs, educational groups and those who just want to enjoy the best that Yorkshire can provide as a day out. Most events are free with entry.
Daily tickets from £9 per adult, £7.50 concessions and £35 for a family ticket (2 adults, up to 3 concessions (must include one child). Annual membership is available. Garden tickets start at £4.50 per adult. If possible, please buy your ticket ahead of arrival.
Please note that our Tea Room will be open from Wednesday to Sundays only and we will record the names and contact details of our visitors, in-line with current Government directives.
__
For more information on Bolton Castle, visit https://www.boltoncastle.co.uk/
For media information and images, and photo and filming opportunities, please contact Kendra Grahame-Clarke at Kendra PR on 07910 214474 or email Kendra@kendrapr.co.uk
___
Bolton Castle, near Leyburn, North Yorkshire, DL8 4ET
Tel: 01969 623981 Email: info@boltoncastle.co.uk https://www.boltoncastle.co.uk/
https://www.boltoncastle.co.uk/