Art& Comes to York this Autumn
Thursday, 12th September 2019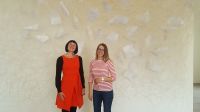 Save the Date:
art& show comes to York from 25th October
Passionate about showcasing art and artists, the founders of art&York, Victoria Robinson and Emily Stubbs, are announcing their 2019 dates for this renowned event at York Racecourse: Friday 25th October to Sunday 27th October.
art&York 2019 is a fantastic opportunity for collectors, buyers, art lovers and anyone else who is interested in meeting artists and buying unique art works to come along to this friendly, accessible and affordable art show. 13 years on, Victoria and Emily have created over 40 shows across the north of England, promoting the work of hundreds of artists and the York show is their largest event. Artists host their own stands and sell their own art and contemporary craft direct to the public.
The event also includes installations, interactive areas, demonstrations and workshops and much more. Set over three days, art&York has over 120 artists' work for sale from £10 to over £10,000 and visitors are also welcome to browse the work and soak up the creative atmosphere at this light, bright and friendly event which has something for everyone.
"We aim to be one of the very best places to buy art and contemporary craft in the North."
Artists taking part in the show pay for their own space and there is 0% commission on their sales – so whenever visitors buy a piece of work it supports an independent artist to keep on making, painting, drawing, sculpting. Respected artists in their own right, Victoria and Emily, with support from acclaimed sculptor Brendan Hesmondhalgh and internationally renowned ceramic artist David Roberts, select artists and designer-makers showing a wide range of high quality and innovative work from glass and ceramics to painting and drawing, jewellery and textiles, sculpture and metalwork.
Each year, 12 emerging artists are also included in the event, artists who have won a place on art&York's six month mentoring and supporting scheme. These 'RAW Talent' artists get a subsidised place at the event plus one to one mentoring and group workshops to prepare them for their first retail show.
In turn any sales they make have a commission back towards the scheme. So by buying from them visitors support the emergence of fresh new talent and get the chance to buy work from up and coming makers and artists.
Following the success last year of their art&Home room sets area featuring artwork included in the show, this year the area has grown and with the support of Arts Council England this year includes room sets by northern interior designers who showcase inspiring ways to make a unique home utilising art.
Within the art&Home area of the show interior designers will be holding one-to-one 'House and Garden Design Surgeries' troubleshooting your own interior design problems. Whether you have a particularly awkward space, are unsure about sequencing your interior design project or you are thinking of making a major purchase such as a sofa, large scale sculpture or painting and are unsure where to begin, our amazing interior designers can help. Please bring a photograph of the offending area or space in your home if possible or just turn up for a chat about your requirements.
Victoria, co-founder says: "The event is curated from beginning to end. The selection process for exhibitors allows us the opportunity to include vibrant and diverse art dovetailed with classic and collectable work so every taste and budget is catered for. Quality is our mantra. We showcase a wide variety of work, for example jewellery that is bold and modern or elegant and ethereal, dramatic seascape paintings and soft, subtle inks, contemporary ceramics and beautifully crafted furniture. If it's a piece of work that might be an investment for the future, or something that you just fall in love with, then we will have something for you. If you enjoy browsing then this is the perfect event. It's a superb opportunity to view a range of work, talk with the artists and see what's out there. Our visitors to the York event come from far and wide, and it is a firm date in every art-lovers' diary."
Opening hours at the art& show at York Racecourse, are as follows:
Friday 25th October 10am – 5pm
Saturday 26th October 10am – 5pm
Sunday 27th October 10am – 4pm
York Racecourse Knavesmire Stand, North Yorkshire.
Day tickets £6.50/£5.50 adult/concession
Multi Use tickets £12/£10 adult/concession
Under 14 – free entry
For more details, visit www.artand.co.uk or for a video about the show, see https://www.youtube.com/watch?v=uClcN508yzA
ENDS
For interview opportunities, more information and images, please contact Kendra Grahame-Clarke at Kendra PR on 07910 214474 or email Kendra@kendrapr.co.uk