York Open Studios 2022 Arrives!
Friday, 1st April 2022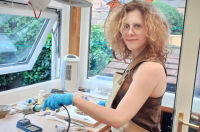 YORK OPEN STUDIOS' WEEKENDS ARE FINALLY HERE: 21 YEARS IN THE MAKING
With spring in the air, it seems only right that the renowned York Open Studios' weekends have finally arrived in York. The first of the two weekends take place this coming weekend, 2 & 3 April, and then 9 & 10 April. Artists are busy this week putting the final touches to both their work and workspaces to welcome visitors across these two weekends. Featuring over 150 artists and makers showing and selling their work, York Open Studios gives visitors an opportunity to view and buy bespoke pieces to suit every budget.
With a fantastically diverse range of styles and mediums available for visitors to enjoy and buy, from painting and print, illustration, drawing and mixed media, ceramics, glass and sculpture, jewellery, textiles, photography and installation art – the York Open Studios' artists are keen to offer something for every pocket. New artists join the roll call of regulars so visitors can enjoy not only new work by their go-to artists, but opportunities to talk with and view innovative and extraordinary work by emerging artists and those new to York Open Studios.
Beccy Ridsdel, one of the organisers and artist adds: "At last the weekends are here and we can't wait to welcome visitors from the city of York and from wider afield. York is a real hub for culture-seekers, and those looking to start a collection of something completely new. These are win-win weekends, with so much on offer, interesting people to meet and a chance to enjoy York and its 10 mile radius for those who love and collect art, as well as the curious. Our artists are delighted to be involved and these weekends are much anticipated. We can't wait for the 2nd April!"
Many of the artists have a story or an experience that inspires their work. This is one of the joys of meeting visitors who can truly appreciate the methods and inspirations behind their work and practices. One of the artists involved in York Open Studios is eco-artist Lisa Lundqvist. Lisa's paintings come from a series of works about the environmental damage caused by fire on the moorlands. 'Burning Moon' is one of these works and will be exhibited in Lisa's workspace for York Open Studios. In addition to painting, Lisa works with eco-printing and dyeing with organic dyes. This is Lisa's second time exhibiting at York Open Studios and she adds 'I'm excited to share my work and practices with public once again!'
A key aim of the York Open Studios team is to support and work closely with developing artists or those who are new to making creativity their career. Working with York College University Centre and York St John, the York Open Studios committee have selected several undergraduates for their popular Student Showcase for which they enjoy free entry to the weekends. This year, new artists Amanda Allmark from York College, and from York St John University include John Cutting, Matilde Toma and Shannon Vertigan. Other new artists are Danladi Bako, Toni Mayner, jeweller and Anthea Peters, printmaker/ceramicist.
Following the success of last year's interactive map, visitors can access this again via the York Open Studios website. Alternatively, a free printed directory is available from various tourist hubs and artist locations throughout the city of York and the wider city region. Visit York Open Studios for more information.
ENDS
Notes to Editors:
York Open Studios: 21 Years in the Making
York Open Studios is an annual not-for-profit event which represents the best of artists and makers living or working within a ten-mile radius of the city. Many artists open their doors to invite the public into their workspaces, some artists will share venues or exhibit their work in other spaces. Artists who are not in their own workspace may display a selection of tools and materials or even demonstrate their skills to give you a more 'Open Studio' experience for visitors. The York Open Studios team are mindful of any potential changes to Covid Government Guidelines and will ensure the event adapts to fit and communicate with artists and visitors if necessary.
The website provides full information regarding the event, illustrating details of participating artists, including their medium and a map of York and its surrounding areas which highlight where visitors will be able to visit them. These can be found in libraries, shops and galleries all over York in the weeks before York Open Studios.
For more information visit York Open Studios or email info@yorkopenstudios.co.uk. Stay in touch via social media: Facebook Twitter Pinterest Instagram
For press information, including interview opportunities with members of the York Open Studios committee and/or artists, please contact Kendra Grahame-Clarke at Kendra PR on 07910 214474 or email Kendra@kendrapr.co.uk
____