Russian Gun Returned to Berwick Barracks
Thursday, 12th April 2018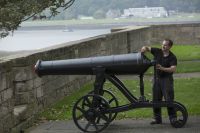 English Heritage's only Russian cannon, made in 1826, has returned to Berwick after extensive restorative works. Gifted to the town of Berwick in 1858 as a trophy of the Crimean War, it has since been preserved as a key historical artefact. The recent conservation works will protect the cannon from harsh coastal weather conditions, keeping it preserved for future generations and continuing its long tradition of care.
Created in Alexandrovski, Russia, the story of how this cannon ended up in Berwick-upon-Tweed is a fascinating one. The cannon bears the imperial arms of Russia, and has a shot weight of 18lbs. The top of the barrel is testament to its heritage, displaying a Russian double-headed eagle. After being captured at Sebastopol in 1856, the gun was set on a carriage specially constructed for it to a Russian pattern by the Royal Arsenal in Woolwich. This was commissioned following talks between Captain Gordon of Berwick Upon Tweed and Secretary Major-General Peel of the War Office in 1858, on the occasion of the government's proposal to no longer use Berwick as a military station. In a letter from the War Office, we read that General Peel specified that this was to be treated with great care, saying the cannon is to be a 'trophy of the late war, for the correct mounting and careful preservation of which General Peel feels confident that he may rely on the public spirit of the inhabitants of the place.' Ever since, the cannon has been kept at Berwick, even surviving the great scrappage scheme of World War Two, when it was considered too important to be destroyed. This was unique to the cannon; all other guns at Berwick's walls were melted down to aid the war effort, showing how Berwick had stayed true to General Peel's wishes, even a century later.
The cannon returns to Berwick after being sent away for careful conservation. It was removed on the 6th June and transferred to a specialist workshop based in Wales to carry out meticulously planned works. The harsh environment in which the cannon is situated, namely its proximity to the sea, meant that the protective surface paint previously used on the gun had deteriorated significantly, resulting in metal corrosion on the gun and the carriage. An air-abrasion treatment has been used to remove old paint and corrosion products. This was carried out with great sensitivity so as not to damage the original surface patination. Once clean, it was painted with a hard epoxy formula containing a high zinc content to create a protective foundation layer. This will endure should the subsequent layers deteriorate over time. Painted over this, a black coloured acrylic urethane layer provides further protection.The result of this work is that the cannon has been safely preserved and will continue to be displayed on the Ramparts of Berwick for the foreseeable future.
Leesa Vere-Stevens, of English Heritage's Collections Conservation Team said: "This significant cannon has been carefully preserved throughout the generations. As part of English Heritage's on-going conservation works, we are continuing that process to keep the cannon here in Berwick-upon-Tweed as an example of how the war was commemorated and remembered in the 19th century."
-ENDS-
Notes to Editors:
The Cannon is an 18 pdr Russian cannon, bearing the Imperial Arms of Russia, on cast iron open frame sliding gun carriage 88091720. Detail:- breech: button cascable with vertically pierced loop to take elevating gear; base ring: "M A"; quarter round sights; first reinforce: raised vent patch (attached from basering); second reinforce: spread eagle; trunnions: left "N20886"; "Alexandrovski" (cyrillic); "A. Foullon" (cyrillic); right: "18" (shot weight); "88" (barrel weight- 28.3 cwt); "1826" (year); muzzle: webs behind mouldings; quarter round sights.
English Heritage have 400 guns, cannons and carriages in their care and are conducting research into protective coatings for firearms displayed outdoors. The paints, waxes and lacquers used on the Berwick Russian gun will be closely monitored and the outcomes will inform future full scale fire arms treatments and maintenance regimes.