NGI Promotes National Tourism Drive: The Explorer's Road
Wednesday, 28th July 2021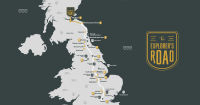 NGI Promotes National Tourism Drive: The Explorer's Road
NewcastleGateshead Initiative (NGI), a destination and investment agency, that works to attract visitors into the area, is promoting The Explorer's Road, a major national project funded by the Discover England Fund, to promote destinations to domestic customers on a route from Berwick and Newcastle to Hertfordshire. Working with regional tourism agencies, the initiative will stimulate visitor interest in some of the country's lesser known regional cities and towns, rural and coastal areas. The aim is to incentivise and engage UK based drivers, those who travel by train, cyclists and walkers, to visit some of the nation's unique locations and best kept secrets, driving footfall, bookings and sales.
The project has also partnered with the UK's mainline East Coast railway London North Eastern Railway (LNER). NGI and its partners share an aim to push a range of visitor destinations, including historic and iconic sites, landscapes and coast, arts and culture, food and drink, emphasising going local. The target market in 2021 is the domestic visitor, encouraging people to engage with local people and places, and enjoy all that the east side of England has to offer along this route. The initiative, which includes a rebranded domestic focussed website and marketing campaign, launched this month and will re-engage with the international visitor market including Europe and North America as worldwide Covid guidelines change.
Sarah Green, Chief Executive at NewcastleGateshead Initiative said: "The Explorer's Road offers the independent traveller a new experience touring the East Coast of England. With online bookability, it is easy for the customer to build an itinerary and confirm both accommodation and attractions. For hospitality businesses and attractions, this route will showcase your business to a new group of customers, helping promote staycations and provide distinctive Covid-safe holiday options in 2021. From the quirky to the quintessentially English, this route gives an inside track on authentic travel showcasing the unique and the under-promoted parts of the English East Coast and allowing visitors to "Escape the Everyday"
More./..1
Continued./..2
VisitEngland Director Andrew Stokes said: "This funding will help to keep England's tourism products and experiences front-of-mind for domestic and international travellers and support local businesses which have been working so hard to welcome visitors back safely, adapting and innovating to meet new ways of working and still providing a great visitor experience. The Discover England Fund is all about embedding our fantastic tourism products and reaching new audiences to drive future visitor growth and boost local economies."
The 300 mile route includes: Berwick, Newcastle, Durham, Alnwick, Bishop Auckland, Barnard Castle, Darlington, Richmond, York, Leeds, Selby, Lincoln, Southwell, Newark, Grantham, Oakham, Stamford, Uppingham, Hitchin & Hertford.
ENDS
NOTES TO EDITORS:
For press information, please contact Kendra Grahame-Clarke at Kendra PR on 07910 214474 kendra@kendrapr.co.uk
Project lead at NGI: Deb Bell deb.bell@ngi.org.uk
www.explorersroad.com
NewcastleGateshead Initiative
NewcastleGateshead Initiative is a destination management and marketing agency; a public-private partnership supported by Gateshead Council and Newcastle City Council, working with around 170 private sector partner organisations across NewcastleGateshead and the wider region.
www.ngi.org.uk
Twitter: @NGinitiative
LinkedIn: www.linkedin.com/company/newcastlegateshead-initiative/
More./..2
Continued./.. 3
About the Discover England Fund
• In November 2015, the Government announced a £40 million Discover England Fund; an unprecedented opportunity for English tourism. The Fund aims to deliver world-class bookable tourism products joined up across geographies and/or themes; including integrated transport solutions to provide an end-to-end customer experience.
• The Fund supports the growth of one of England's most successful export industries, inbound tourism. Tourism is an industry that delivers jobs and economic growth across the English regions – contributing some £106bn each year to the economy and supporting 2.6 million jobs.
• The Fund supported a number of pilot projects in year one (2016/17) that tested product development approaches.
In years two and three, 2017-19, the fund supported:
o A number of large-scale collaborative projects to be delivered over the two year period 2017-2019 that will create a step-change in bookable English tourism product for international consumers,
o A smaller funding pot for new one year pilot projects (in year two), and
o Continuation funding for existing year one projects that demonstrated early learnings (in year two).
In Year four (2019/20) an extended period was granted for delivery of the large scale projects to ensure delivery and/or amplification.
In year five (2020/21) additional funding allocated by HM Treasury includes grant funding to existing projects, marketing and distribution activity led by VisitBritain/VisitEngland and evaluation and research.