Kemps Goes to Town & Celebrates Christmas Windows with Local Talent
Monday, 18th November 2019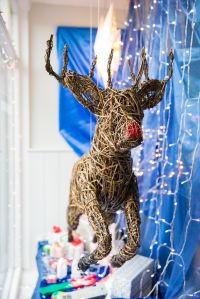 Kemps Goes to Town:
Christmas Windows Created by Local Talent
With eye-catching Christmas windows a must for shop owner Liz Kemp of Kemps General Store in Malton and now the new Kemps on the Coast in Whitby, the festive season has officially arrived and her windows are bedecked with gift ideas shown beautifully on and alongside work by two local artisans.
Renowned willow sculptor Emma Stothard has created a tailor-made reindeer to celebrate Liz's Malton window, complete with red nose. Emma, who has her studio in Whitby, creates willow and wire sculptures which are often seen at the Chelsea Flower Show. Her works are also included at private gardens and stately homes nationwide, with a permanent home for one of her pieces at Highbury.
The new Whitby shop, which opened in September, is celebrating its first Christmas as part of the Kemps portfolio, with Woodlark artist and designer Mark Bennett, who has created Liz a set of shelves made from sycamore, each one beautifully hand crafted with wood chosen from the nearby Castle Howard Estate.
Liz's two shops are already stocked to the gills with fabulous gift ideas and her windows showcase new and perennial favourites that her customers covet. Liz's decision to use local artisans for her windows is a considered choice. Liz adds: "Whilst we do sell handpicked items from around the world, at our heart is our commitment to quality British-made merchandise and items created by local crafts people, artisans and creatives, whose products are sold across our two shops. In addition, each shop sells products bespoke to each location reflecting its own personality and customer. Our core theme is working with suppliers close to us as a priority for inspirational gifts and products that haven't travelled miles to our shops."
"Emma's work is well known in Whitby with her fantastic life sized Polar Bear piece at the The Staithes Festival and the Fisher Lass sculpture at the foot of the Abbey steps. Mark at the Woodlark not only works from his workshop in Old Malton but he also sells his stunning wood objects, such as furniture, mirrors, breadboards and commissioned pieces from his shop in The Shambles in Malton. I am delighted to include his beautiful shelves in our Whitby shop and bring his products to the attention of new customers."
Both shops are now open every day until Christmas. It's a busy time of year, but as Liz adds "It is busy but this is our favourite time of year when we can go to town on our windows and showcase gorgeous gifts for all budgets and even those hard to buy for people. We hope that our inclusion of these two pieces from locally based artists will lift the spirits of our customers and welcome in new ones to have a browse and buy extraordinary pieces of work created on their doorstep."
Christmas Opening times:
Malton: Daily from 9.30am – 4.30pm Mon to Sun
Closing at 3.00pm on Christmas Eve and reopening Saturday 4 Jan at 9.30am
Whitby: Daily from 10.00am – 5.00pm Mon to Sun
Closing at 5.00pm Christmas Eve and re-opening again Friday 27 Dec
ENDS
Notes to Editors:
Liz Kemp
After 20 years in the demanding events industry, managing a portfolio of million pound events for international clients, Liz decided that it was time to honour her childhood roots and take on a new challenge. She decided to set up shop, but not just any shop, an emporium of the beautiful and unusual to be exact. Kemps General Store is a place for people to browse and lose themselves in, a source of fascination and delight, in her adopted home of Malton and the new Whitby shop provides the same quality products, service and ambience, but with a salty twist. Alongside curating a range of imaginative and mostly UK made products, Liz's vision was to re-create the welcoming and vibrant atmosphere her parents had cultivated over 40 years ago.
Liz Kemp has brought her stage and event management skills to her retail business. Liz is an experienced event production specialist, working with some of the best known names in the business. Liz's career includes leading roles within the industry, in London and Europe, working with organisers of conferences, public events and festivals, in addition to well-known names in the world of theatre, cutting edge agencies and FTSE 100 companies.
Kemps on the Coast Kemps General Store
10 Grape Lane 13 Market Place
Whitby YO22 4BA Malton, YO17 7LP
01653 693577
https://www.kempsonthecoast.co.uk/
https://www.kempsgeneralstore.co.uk/
For images, details and interview opportunities, please contact Kendra Grahame-Clarke at Kendra PR on 07910 214474 e. Kendra@kendrapr.co.uk
Photo credit: Olivia Brabbs Photography