Celebrating National Coffee Week 10 - 16 April
Saturday, 25th March 2017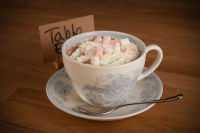 Have you a Nose for a Good Blend?
The Café at Field & Fawcett and Field & Fawcett Wine Merchants Celebrate the Perfect Blend for UK Coffee Week
Field & Fawcett in York celebrates UK Coffee Week from 10 – 16 April with a fine selection of blends in both The Café at Field & Fawcett and the wine merchants courtesy of Yorkshire coffee supplier Dark Woods.
Dark Woods, based in Huddersfield, is an award winning speciality coffee wholesaler and one of the country's premier coffee houses with a keen eye on what's new, fairly traded and what tastes delicious whether you're a coffee connoisseur or just in need of a boost at breakfast. Peter and Cathryn Fawcett, owners of Field & Fawcett, are well used to providing tasting notes to bring together wine and food lovers - so coffee is proving an extension of what they do best: recommending and matching, serving and selling.
Cathryn Fawcett of Field and Fawcett comments:
"The explosion in coffee over the past decade means that there are so many interesting varieties available on the market. Working with a specialist Yorkshire firm was very important to us and Dark Woods has a fantastic range and ethos - that fits with our business.
Putting our experienced wine palates to the test, when choosing the blends of coffee, has been great fun and an education. We have really enjoyed searching out the very best for our customers to enjoy. A great coffee will set you up for the day and we want to give that to our customers when they drop in for breakfast or brunch."
Field & Fawcett, York's leading and award winning independent wine merchant and delicatessen located on the outskirts of York at Grimston Bar, sells fine wines, spirits, beers cheese and charcuterie, with The Café at Field & Fawcett serving home cooked and classic, seasonal food from early mornings through to late afternoons.
The Café is located within the same farm buildings from where the wine merchants have been successfully operating for ten years. Husband and wife team share the determination to bring quality to their customers and Dark Woods coffee is both sold and served at Field & Fawcett.
Dark Woods shares this ethos and founders Damian Blackburn, Ian Agnew and Paul Meikle-Janney take their choice of locations selling and serving their coffee very seriously.
Says Paul: "Through years of being involved in the coffee industry, judging world competitions, and working with some of the best baristas, we had all tasted and worked with some of the finest coffees around, but precious little was available in the North of England. And so it was time to do our own thing, to have the freedom to experiment with the finest beans, in a beautifully renovated mill nestling in the moorland landscape we love."
"We want to be "inclusive" rather than "exclusive". Roasting coffee that would be loved by the coffee specialist, but also appreciated by the public, advising and supporting them through some of coffee's more 'challenging' flavours and brewing techniques. This approach goes back down the supply chain as well, working in partnership with those who grow and supply the coffee we rely on."
The Café at Field & Fawcett is offering customers one free coffee per person with the purchase of a dish off the breakfast menu from 8am to 10am Monday to Friday valid throughout UK Coffee Week 10 – 16 April 2017.
ENDS
The Café at Field & Fawcett is open Monday to Friday 8am to 4pm and Saturdays 9am to 6pm. Closed Sundays.
The Café at Field & Fawcett, Bingley House Farm, Grimston Bar, York, YO19 5LA. Telephone 01904 489073 email info@fieldandfawcett.co.uk www.fieldandfawcett.co.uk
http://www.darkwoodscoffee.co.uk
ENDS
For press information and interview opportunities, contact Kendra Grahame-Clarke on m. 07910 214474 kendra@kendrapr.co.uk