Brilliant Three Day Art Show Comes to York in October
Friday, 13th October 2017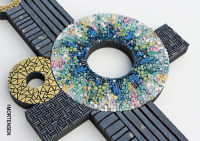 The Yorkshire art team behind the successful three day festival of art
Friday 27 October to Sunday 29 October 2017
An art show with a difference is coming to York Racecourse in October. The three day art show, art&York 2017 is run by a team of three creatives with the aim of making art accessible and affordable.
Formerly known as The Art Market, the show is not only a place to see established and up and coming artists but a place to learn about art. There will be daily demonstrations and talks, interactive areas and the chance to get hands on with clay – which will be under the spotlight at this year's event.
Behind the event and the art& organisation are professional artists, ceramicist Emily Stubbs and sculptor Brendan Hesmondhalgh along with artist Victoria Robinson.
Their vision for the show has seen it grow over the past decade from a small event hosted in Holmfirth to its move three years ago to York Racecourse. Visitor numbers have increased year on year, doubling at last year's event.
"Our vision when we first started was to create the kind of show we wanted to be part of," said Emily. "We wanted to make buying and selling original art as easy, fun and accessible as possible, with potential new collectors able to own an original piece at an affordable price ranging from £10 to £10,000. And as we are Yorkshire artists, we are passionate about the county having a strong platform for artists, buyers, collectors and art enthusiasts to meet as well as creating a place where buying art is accessible to everyone."
This year's event, which takes place on October 27-29 will see more than 120 artists working in every kind of medium exhibiting their work, ten installations promise to give visitors food for thought and three daily workshops will be open for anyone wanting to try something new. Running for around an hour each, ceramicist Emily Stubbs will be leading Mark Making on Clay, while two of the art& Raw Talent artists, Jessica Grady and Buttercrumble will lead Mixed Media Embroidery Techniques and Portrait Illustrations respectively.
Emily said they were really excited about the workshops.
"It is a great opportunity for visitors to the show to come along and have a go at something completely different. Who knows they may find a new passion or at the very least have a lot of fun. There is no need to book or bring anything with them, just turn up."
Also exhibiting at the show will be art&'s Raw Talent Award winners. Knowing the difficulties up and coming artists face, part of art& is its mentoring scheme. Twelve developing artists are given the Raw Talent award which includes guidance and business advice from the three organisers and space at the three day show.
"Over the years we have been putting on art events, emerging artists have been asking for advice on the same key areas such as presentation, pricing, trade, and marketing," explained Victoria. "Creating the award grew out of not only our own experiences but the real need of artists and culminates in opportunity to exhibit their work at the show."
"Developing the Raw Talent Award and our purpose to help other artists make their passion a career is the reason we decided to change our name from The Art Market to art&. We have become more than an art show, which our name now reflects, we are also art&Mentoring and art&Courses," she explained.
As part of their growing portfolio, the art& team has been busy developing their new courses which will be available to buy online at the art& website from early October. The courses are designed to reflect their ethos of helping artists develop their talents and learn more about creating art and taking part in shows. "The wonderful thing about art& is it is constantly evolving and we are finding new ways to support up and coming talent. The online courses mean we can offer that help in a really accessible way no matter where an artist is based," Victoria said.
The art& show opens on Friday, October 27 and runs until Sunday, October 29. Doors open at 10am all three days with Friday closing time at 8pm, Saturday 6pm and Sunday 4pm. It will be held at the Knavesmire Stand of York Racecourse. Tickets are priced at £6.50 for adults and £5.50 concessions and Children under 14 free. 3-day tickets are also available on the website.
For more details about art& please visit the website artand.co.uk
With picture of art& organisers:
From left: Victoria Robinson, Emily Stubbs and Brendan Hesmondhalgh.
Pictures of artist's work who will be exhibiting at the show can be accessed via the Dropbox link below. (Control click or copy into your browser for access).
Victoria Robinson and Emily Stubbs are available for interview.
https://www.dropbox.com/home/Art%26%202017
For press information and images, contact Kendra Grahame-Clarke at Kendra PR on Kendra@kendrapr.co.uk or call 07910 214474.