Bolton Castle Plays Its Part in Channel 5's Drama
Monday, 17th May 2021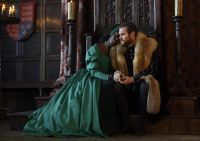 PRESS RELEASE May 2021
Wensleydale's Bolton Castle Plays its Part in Channel 5's New Psychological Thriller 'Anne Boleyn'
Bolton Castle near Leyburn, one of the best preserved medieval castles in the country, is home to many of the iconic scenes within the forthcoming Fable Pictures, Channel 5 and Sony Pictures Television three-part psychological thriller, Anne Boleyn.
Bolton Castle can be seen within many of scenes throughout the series, and acts as the interior location for Greenwich Palace, and as the location for Anne Boleyn's scandalous execution at the Tower of London.
Shot in Yorkshire last year the drama will explore the final months of Anne Boleyn's life from the eponymous Queen's perspective, as she struggles to secure a future for her daughter and to challenge the powerful patriarchy closing in around her. Anne Boleyn will depict the key moments that cause Anne to topple, unpicking her immense strength, her fatal vulnerabilities and her determination to be an equal among men.
Jodie Turner-Smith (Queen & Slim) stars as Henry VIII's infamous second wife, Anne Boleyn. The ensemble cast includes Yorkshire born actor Mark Stanley, (White House Farm) as Henry VIII, one of the most famous Kings in British history, and Lola Petticrew (Dating Amber) as Anne's love rival, Jane Seymour. BAFTA Nominated Paapa Essiedu (I May Destroy You, Gangs of London) is Anne's brother and Tudor nobleman George Boleyn.
Barry Ward (White Lines, Des) is King Henry VIII's closest and most powerful advisor Thomas Cromwell, Jamael Westman (West End's Hamilton) is Jane Seymour's ambitious brother Edward, Amanda Burton (White House Fam, Silent Witness) is stoic Governess, Lady Anne Shelton, and Thalissa Teixeira (Two Weeks to Live, Trigonometry) is Anne's loyal confidante and cousin Madge Shelton.
Newcomer Eve Hedderwick Turner has penned the 3-part mini-series, which is directed by Lynsey Miller (Deadwater Fell, Doing Money, The Boy With The Topknot).
Anne Boleyn is produced by BAFTA Nominated Faye Ward and Hannah Farrell through their TV & Film Production Company Fable Pictures. The series was commissioned by Channel 5's Controller Ben Frow, Deputy Director of Programmes Sebastian Cardwell and SPT's President of International Production Wayne Garvie. Renowned historian Dan Jones serves as Executive Producer. The series wrapped production on location in Yorkshire in December 2020 and is coming soon to Channel 5.
Photo credit: Parisa Taghizadeh
ENDS
For media information and images on Bolton Castle, please contact Kendra Grahame-Clarke at Kendra PR on 07910 214474 or email Kendra@kendrapr.co.uk
For information on Anne Boleyn please contact Holly Cowan, Publicist: T: 07769 369272 holly.cowan@channel5.com
Bolton Castle Gardens & Falconry Displays Open Now, Castle Opens 17 May 2021
Commanding outstanding views across the Yorkshire Dales, Bolton Castle boasts one of the most romantic settings in Yorkshire. Built as a luxurious home by Sir Richard Le Scrope 600 years ago, the Castle uniquely remains under the private ownership of Lord Bolton, a direct descendant of Sir Richard.
Set with views across the Wensleydale Valley, the gardens now host events with a programme of activities, re-enactment days and outdoor theatre opportunities for all the family. Falconry displays take place daily. The team will continue to encourage social distancing and, mindful of the Government's roadmap for reopening, the Castle, Tea Room and Shop will reopen from 17 May. Visitors are encouraged to purchase tickets on line by visiting the website www.boltoncastle.co.uk which also includes any additional details for visitors to enjoy a safe and memorable visit. Visitors who have already booked will be given priority on arrival. Events are free with entry unless otherwise stated, and 10am to 5pm in-line with the garden and castle opening times.
Bolton Castle has achieved 'We're Good to Go' Industry Standard from Visit Britain meaning that Bolton Castle has followed Government and industry COVID-19 guidelines, has a Risk Assessment in place and a process to maintain cleanliness and aid social distancing.
For more information on Bolton Castle and entry details, visit https://www.boltoncastle.co.uk/
___
Bolton Castle, near Leyburn, North Yorkshire, DL8 4ET
Tel: 01969 623981 Email: info@boltoncastle.co.uk https://www.boltoncastle.co.uk/
https://www.boltoncastle.co.uk/
About Channel 5
Channel 5 is a public service broadcaster and the UK's third largest commercial TV station. Launched in March 1997, Channel 5 has been owned by ViacomCBS Networks International since September 2014. Channel 5, 5STAR, 5USA, 5Select and My5 TV reach 3 in 4 of the UK viewing public each month with a diverse schedule including issue-led documentaries, popular factual, accessible history, stunning natural history, inclusive entertainment and reality, top level sport, high quality scripted programming and critically acclaimed children's, news and current affairs programming. Through its agenda-driving commissions, Channel 5 has led on societal issues from inequality to inner city gang life, homelessness to mental health, aiming to tell the story of modern Britain by reflecting the lives of people across the nation. My5 is an on-demand service allowing viewers to watch content online for free from Channel 5, 5STAR, 5USA, 5Select and 5Spike, as well as selected third-party channels. In 2018, Channel 5 won its first BAFTA for Cruising with Jane McDonald and was named 'Channel of the Year' at the Edinburgh TV Festival. In 2019, Chanel 5 won best documentary award for The Abused at the RTS Awards, Edinburgh TV Awards and the Association of International Broadcasters Awards. In 2020, Channel 5 was crowned Channel of the Year at the Broadcast Digital Awards and Channel of the Year at the RTS awards.
About Fable Pictures:
Fable Pictures is a boutique television and film production company spearheaded by Creative Directors Faye Ward and Hannah Farrell with backing from Sony Pictures Television. The ethos of Fable Pictures is to discover and tell stories with a fresh and distinctive eye.
Fable Pictures' latest film ROCKS was made with Fable's long-term collaborator director Sarah Gavron, written by Theresa Ikoko & Claire Wilson and stars a cast of newcomers. Since its release, the film has garnered 5 star reviews, five BIFA awards and two BAFTA awards. The film was released in cinemas in September 2020 and is now on Netflix.
The company's first feature film, STAN & OLLIE, received three BAFTA nominations and a Golden Globe nomination. Written by Jeff Pope and directed Jon S. Baird, the film stars Steve Coogan and John C. Reilly as beloved comedy duo Laurel and Hardy. Fable's second feature was multi-award-winning WILD ROSE starring Jessie Buckley as a young country singer and Julie Walters as her frustrated mum, written by Nicole Taylor and directed by Tom Harper.
The company's television slate includes an adaptation of MR LOVERMAN by Booker prize winner Bernardine Evaristo for the BBC; and a series about sisters Joan and Jackie Collins.
About Sony Pictures Television:
Sony Pictures Television (SPT) is one of the television industry's leading content providers, producing, distributing and carrying programming worldwide in every genre and for every platform. In addition to managing one of the industry's largest libraries of award-winning feature films, television shows and formats, SPT is home to a thriving global content business, operating a robust portfolio of wholly-owned and joint-venture production companies across the U.S., Europe, Latin America, and Asia Pacific, as well as linear and digital channels around the world. SPT is a Sony Pictures Entertainment Company.