Bolton Castle Opens 26 March 2022
Thursday, 10th March 2022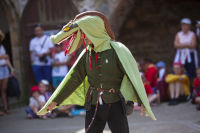 Bolton Castle near Leyburn, North Yorkshire: Events for Everyone 2022
Bolton Castle in North Yorkshire is one of the best preserved medieval castles in the country. Originally built as one of the finest and most luxurious homes in the land, the castle bears the scars of over 600 years of fascinating history. Still in the private ownership of Lord Bolton, the direct descendant of the castle's original owner Sir Richard le Scrope, the castle provides a programme of events throughout the open season, great for families, history buffs and those who just enjoy fresh air and glorious views. The castle, gardens, tea-room and new kiosk (perfect for nearby walks) are fully open from Saturday 26 March. Falconry displays take place every day and are free with entry. Tickets cost £12.50 per adult, £9 per child and £48 family for castle and gardens. We encourage our visitors to book their tickets ahead via our website.
Events are free with entry unless otherwise stated and take place from 10am to 5pm in-line with the garden and castle opening times.
Bolton Castle has achieved 'We're Good to Go' Industry Standard from Visit Britain meaning that Bolton Castle has followed Government and industry COVID-19 guidelines. We continue to ask our visitors to be mindful of social distancing and to use our hand sanitisers as they see fit. Please check our website ahead of visiting on a non-event day in case of castle closure for private events.
Check out our new App and download here – keep up to date with everything going on at Bolton Castle on a daily basis, find out all about our forthcoming events and book tickets – all on your phone.
Wedding Fair
Sunday 20 March 11am to 2.30pm
A lovely chance to meet some of our favourite wedding suppliers and get brilliant ideas for your wedding. The fair is your opportunity to see how the Bolton Castle team can make your special day a memorable one for you, your partner and all your guests. Join us from 11am – admission free.
Medieval Event 1461 Battle of Towton
Saturday 26 and Sunday 27 March 10am to 5pm
Hurrah! We open to our visitors for our jam-packed 2022 season and we start with one of our favourite events. In 1461 a family feud over who had the right to be king, later to be known as The War of the Roses, had divided England. Thomas, Lord Scrope, owner of Bolton Castle, supported Richard, Duke of York and later his son, Edward, against King Henry V1 of the House of Lancaster. After the death of his father in December 1460 at Wakefield, Edward had himself proclaimed king and marched north in pursuit of the Lancastrian army. The two sides met on March 29th, 1461 at a small village near to York called Towton. On that Palm Sunday, in a blinding blizzard, what is probably the bloodiest battle on British soil took place. Part of Edward's army was Lord Scrope with a contingent from Bolton Castle. Left behind was a small garrison to guard the castle.
Come and talk with our historians to find out what life would have been like for the group left behind. Listen to what the war was truly about and decide who you would have fought for? You can see the kitchens at work, have a go at archery, handle the weaponry of the period, and enjoy a guided tour of the castle.
Paranormal Evening: The Hauntings of Bolton Castle Ghost Hunt
Saturday 23 April
9pm to 3am (24 April) Tickets cost £55 pp (suitable for over 18s only)
Once dusk falls, take the plunge and experience a night of scary ghost hunting inside the formidable and incredibly haunted, Bolton Castle.
Bolton Castle, an exclusive location to paranormal events company Dusk Till Dawn Events, was built in the 14th Century and is a Scheduled Ancient Monument. The building is Grade l listed and can be found in Wensleydale, Yorkshire. This creepy old castle comes with a turbulent, historical past, including two unsuccessful exorcisms, which were carried out in Mary, Queen of Scots Bedchamber, when Mary was imprisoned here during the 15th century.
With over 600 years of history, there have been an array of guests to the castle during this time, however it is said that many of its "ghostly visitors" have remained, haunting these ominous castle walls forever.
This medieval castle, which was once also a defensive fortress during the Civil War period is vast in size, the castle comes complete with its own dark and macabre Dungeon Hole, along with a warren of various rooms, some of which include the Old Kitchens, the Great Chamber Solar, Medieval Nursery, Armoury and Mary Queen of Scots Bedroom, not to mention the many corridors and creepy stairwells, perfect for a night of ghost hunting upon nightfall.
An Evening with 'Mary Queen of Scots'
Friday 6 May 6.45pm to 8pm
Saturday 7 May 11am to 3pm
Tickets £13
Families can come and meet Mary Queen of Scots as Lord and Lady Scrope prepare for her arrival at Bolton Castle. An interactive session for all ages.
The execution of Mary Queen of the Scots on the 8 February 1587 shocked Europe to the core and gave rise to an often maligned Queen but an instantly recognisable figure, adored by many to this day.
Jane Collier of the Marie Stuart Society and reenactor with Discover Buxton, will give you an intimate view of this gifted, charming, fun loving and intensely loyal Queen, her stay at Bolton Castle still a time of hope for her, and her descent into despair during her 19 years of illegal imprisonment before the inevitable tragic end
Medieval Event: Tudor 1568 Imprisonment of Mary Queen of Scots
Saturday 14 May and Sunday 15 May
Come and meet some of the Tudor household of Lord Scrope. Find out about their daily lives and some of the great changes that affected them; join in with their activities and see how well you would have fared as a Tudor. Learn more about one of the most famous of the castle's guests, Mary Queen of Scots, and how she spent her time during her six months of captivity here. Explore the rooms that she lived in and find out more about the reasons for the 19 years she spent in captivity before she was finally executed at Fotheringay in 1587. Enjoy the sights and smells of a Tudor kitchen at work; train as a member of the local militia; or follow the tour that covers five floors of the castle, including Mary's bedroom.
Captain Saviles 15th Century re-enactment weekend
Saturday 18 June and Sunday 19 June
Please see our website for detailed timings of activities taking place during each day
This wonderful re-enactment weekend offers visitors a chance to see a fully equipped camp complete with medieval tents and a camp kitchen. Re-enactors carry out the everyday tasks of medieval life such as chopping wood, fetching water, food preparation and, within the castle itself, displays of spinning silk as well as cooking, the medieval way. As well as watching the professionals in action, our visitors can also have a go and participate in combat – whatever your age, this is your chance have a go and see how you'd fare mid battle! See what it's like to face a charge, handle the weapons (all items sanitised between activities), and feel the pull of the bow and arrow! Not to be missed! The weekend is a real slice of medieval life – in peace as well as in combat, with a court hearing and role play re-enactment, inspection of archers, a 'Mummers' play (a traditional folk play). All combatants will be asked to adhere to Government guidelines.
Visit our website for all our events throughout the 2022 season, until we close 30 October 2022.
Notes to Editors:
The Castle provides a fascinating insight into life within its walls and gardens, with a range of opportunities to see, enjoy and learn how life – warts and all - really was at the castle across the centuries. The castle also holds a unique position in history as the host of Mary, Queen of Scots, purportedly held here in captivity for the longest time, and who enjoyed some luxury which the Scottish Queen will not have experienced at her previous residence, Carlisle Castle. Bolton Castle's The Solar, the family's well-appointed suite of rooms, held her and her many servants until her escape with the help of her supporters. Local history reveals that she was eventually recaptured nearby on a hill which today bears the name Shawl Hill, after her shawl was reportedly found revealing her whereabouts.
Brought alive by a series of events and activities for visitors of all ages, the castle with its five floors, daily falconry displays and exceptional country gardens, including a maze and a small but perfectly formed walled vineyard, is the perfect day out for families of all ages, heritage buffs, educational groups and those who just want to enjoy the best that Yorkshire can provide as a day out. Most events are free with entry.
__
Some activities are weather dependent, so please check the website if coming from afar. Please also check dates on the website before leaving home for the few occasions the castle is closed for private events.
For more information on Bolton Castle, visit https://www.boltoncastle.co.uk/
For media information and images, and photo and filming opportunities, please contact Kendra Grahame-Clarke at Kendra PR on 07910 214474 or email Kendra@kendrapr.co.uk
___
Bolton Castle, near Leyburn, North Yorkshire, DL8 4ET
Tel: 01969 623981 Email info@boltoncastle.co.uk
https://www.boltoncastle.co.uk/
Please note dogs are not allowed in the Castle and we cannot allow dogs in the gardens. Dogs Must Not Be Left Unattended In Hot Cars. Please refer to our home page on our website for details and alternative options for your pet.