Beauty App Launched By Brazilian Beauties
Monday, 27th April 2020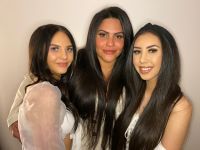 Brazilian Beauties Bolster JustMe Launch
Brazil born Fabiana Bolster is launching a brand new website and app for beauty providers and clients looking to make that booking 24/7 in the north west. JustMe is the brainchild of Fabiana, and her businessman husband John, while work to complete her new beauty location is on hold during the pandemic. Fabiana has teamed up with daughters Luana and Lorena and together they are keen to promote the benefits of JustMe to mobile beauty providers, salons, spas and potential clients in the north west.
Proud to support her community and offer a service to the wider area of Wigan, Brazilian born Fabiana has always had a passion for beauty, hair and fitness. With four daughters, Fabiana was keen to find a solution to constantly booking appointments for her girls, driving them to a variety of locations, and waiting for the call to pick up. She also wants to maximise the opportunities for people in the Wigan beauty business community to showcase their skills to a wider audience of potential clients.
Fabiana married her Liverpool born husband John on the famous Copacabana beach in 2000. Fabulous at 40 and loving her life in Wigan following the birth of her four girls and one boy, Fabiana now has the time to grow her business and spread the word of the benefits of JustMe. Daughters Luana and Lorena are keen to be on board and ensure the JustMe service works for all ages.
Says Fabiana: "My girls love their treatments and I love that they are interested to keep their skin, hair and bodies in top notch condition and it certainly contributes to a healthy state of mind in our family."
"We are very aware that there is a market for this kind of 'at home' service as well as in salons and the JustMe website and app lets those in the world of beauty, hair and the aesthetics business, take control of their time with a free and simple upload to the JustMe website. It's a great opportunity to showcase their skills widely with our additional marketing support, get reviews from clients and take bookings 24/7."
"Evidently in these times of self-distancing this is something for the future, but this time has given us the head-space to really think about the future and JustMe hits the spot. In these changing times, we think it's a beauty revolution – Brazilian style!"
The JustMe app lets you check out your area for all kinds of beauty and aesthetic services, hairdressers (for men and women), nail technicians, personal trainers, spa and massage providers, and much more. Beauty business providers upload their information now and start taking bookings ready for the day lockdown is over. JustMe is financed by a small commission for each appointment, and provides a one-stop-shop for all beauty providers in the north west area. Appointment seekers can view everyone online easily, read reviews with the providers knowing their services are clearly on offer for bookings, at times to suit them.
For more information, visit JustMe.net and download the free app JustMe for Beauty from your App Store. Available on Google Play and Android.
JustMe.net
Notes to Editors:
For more information, and interview opportunities with Fabiana, please contact Kendra Grahame-Clarke at Kendra@Kendrapr.co.uk or call 07910 214474.
Image 1: Fabiana Bolster with daughters Lorena (L) and Luana
Image 2: Fabiana Bolster