Kemp's General Store Shortlisted in FSB Awards
Monday, 4th February 2019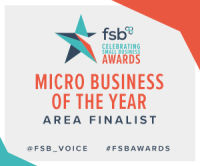 Kemp's General Store in Malton: Shortlisted for a FSB Celebrating Small Business Award 2019
Kemp's General Store on Market Square in Malton, has been shortlisted for one of the prestigious Federation of Small Business Awards. Shortlisted for the Micro Business Award for the Yorkshire and Humber Area, Liz Kemp who owns Kemp's will attend the area final which takes place on 1 March with the regional winners announced at a glittering lunch at The Principal Hotel York.
The regional winners in each category and other regional finalists will then go through to the national finals which will be a sparkling event in London on 23 May at Battersea Evolution. Here the UK category winners and FSB Business of the Year 2019 will be announced. The formal awards dinner on the evening of the final will attract over 500 guests, made from area winners, the judges, sponsors, media, MPs and industry business leaders, for a night of celebration and recognition.
With the country divided up into 12 regions, Kemp's is one of four entries in the Micro Business Award. Other categories include Business and Product Innovation Award and International Business of the Year, among a total of 11 categories. This is the second year the FSB Awards have taken place and include businesses from a wide range of sectors.
Liz Kemp, who owns Kemp's says: "I am really delighted with the news. We strive to ensure that Kemp's ethos of selling the very best and most unique to our customers, combined with our commitment to old fashioned customer service, stands true and with hundreds of entries for this category, I am thrilled to have been shortlisted and pleased that Malton yet again is being promoted nationally as a town of thriving independent shops and successful small businesses."
Liz, who grew up above her parent's shop in West Yorkshire, opened Kemp's General Store in 2017 as an emporium of beautifully created gifts and must-haves for the home, many sourced locally and mostly British made. Kemp's was also recently nominated as one of the 100 shops across the country to be included in the renowned Small Business Saturday.
ENDS
Notes to Editors:
For more information on the FSB Awards, visit:
https://www.fsbawards.co.uk/area-finals/yorkshire-and-the-humber.html
www.fsb.org.uk
more./..
Kemps General Store, Re-Established 2017
Today the shop stands as a testament to tradition and the old ways of doing things, a small oasis which reflects a slower, calmer way of life. However alongside heritage, there is also certainly room for the new. Whilst the service may be exactly the same as all those years ago, the products are decidedly much more exciting. Long before opening the doors, Liz hunted up and down the UK for the best of British - looking for exciting new brands and beautiful contemporary designs.
For more information on Small Business Saturday UK
https://smallbusinesssaturdayuk.com/small-biz-100
**
Kemps General Stores
13 Market Place
Malton, YO17 7LP
01653 693577
Facebook @kempgsgeneralstore
www.kempsgeneralstore.co.uk
Twitter @kempsstore
Instagram Kempsmalton
Photography Credit: Olivia Brabbs Photography
**
For images, details and interview opportunities, please contact Kendra Grahame-Clarke at Kendra PR on 07910 214474 e. Kendra@kendrapr.co.uk