Hair-Raising Fun for Halloween at Stockeld Park
Tuesday, 4th October 2016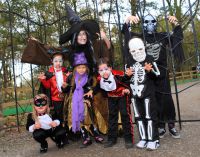 October 2016
Hair-raising fun at the Halloween Adventure
The spell has been cast for a hair-raising holiday of spooky fun at Stockeld Park this October half term with the return of the Halloween Adventure. The award winning visitor attraction reopens daily with a packed special event programme for all the family from Wednesday 19 to Monday 31 October, 10.30am until 8.30pm.
To celebrate the Autumn festival the team at Stockeld Park have worked their magic to create a spell-binding week of ghoulish goings-on with the return of the real ice skating rink, the Nordic Ski Trail, the Giant Maze, the bewitching Enchanted Forest, Face painting, the Halloween Catwalk and Creepy Crafts in the Spooktacular arts and craft zone.
In addition to the adventure zones there are a host of special spooky events to appeal to different age ranges that will offer Halloween themed fun across the adventure:-
From Monday 24 to Sunday 30 October, 10am – 5pm, a host of Creepy Crawlie Creatures are visiting. Come meet the Reptile Rangers and see if you dare to get up close to their amazing animals including Snakes, Spiders and Lizards. There is even a giant cockroach - all the perfect ingredients for casting the most creative spells this Halloween.
Children can join magician Magic Mal, in the Wizard's Den, from Monday 24 October until Sunday 30 October. With shows throughout the day, little ones can learn new magic spells and have fun watching tricks. Each child also receives a Halloween treat. Book early to avoid disappointment, the shows price is £6.
The wonderful Witches in the Forest returns on Monday 24 to Friday 28 October in the Enchanted Forest from 1pm until 5.00pm. Be brave and dare to enter the Enchanted Forest. See it come to life with a coven of friendly and wise witches, plus you can enjoy taking part in some magical challenges.
Don't miss the chance to take home a pumpkin carving to be proud of. The very talented Christian Russell, a professional pumpkin carver from West Yorkshire, will be on site creating fantastical pumpkin designs from Tuesday 25 until 30 October, from 10am to 5pm. If you buy a Stockeld Park pumpkin, grown on the pumpkin patch, Christian will carve an amazing design for you to take home.
For children 8 and over Fright Night returns on Saturday 29, Sunday 30 and Monday 31 October from 5.30pm – 9.30pm. The price per person is £14 and can be pre-booked online. Be prepared to be scared with AtmosFEAR Entertainment Group's spine-chilling experience for older children, teenagers and adults to enjoy. See the usually beautiful and tranquil woodland setting transform into a world of terror where only the brave hearted will make it through Fright Night!
Wander into the moonlit Forest and join the Vampires' Ball. Follow the murky path through the twisted trees into the Vampires' Vale, where they lurk in the shadows for a night of decaying decadence.
Then get lost in the giant shadowy yew tree maze, where Edwin Oddfellow's 'Carnival of Oddities' lie in their final resting places, awaiting your arrival!
The finale is only for the brave - are you strong enough to enter the Black Crypt? Blind faith will be your guide as you embark on a journey into the inky darkness, in this sensory deprived experience. Sometimes it's what you can't see that gets you!
Sarah Murray, sales and marketing manager, of Stocked Park comments:-
"There is something special about the Halloween Adventure. The Enchanted Forest is the perfect backdrop for wannabe wizards and witches. Come dressed up in your Halloween Costumes and embrace your favourite spooky characters to make the most of your visit. The Fright Night experience for older children and adults really brings the park to life at night. It is a real departure from the day time activities and a true test of how brave you really are! "
For all events, timings and pricing please visit www.stockeldpark.co.uk where you can now book tickets online.
Notes to Editors:
For media enquiries (details, further images, interview, competition prizes and photography opportunities), please contact:
Corrie Staniforth t. 0113 284 2230 m. 07557870601 corrie@kendrapr.co.uk
For a full range of High Res Halloween Images please visit the following Dropbox link:-
https://www.dropbox.com/sh/4hvhky962jhfgt1/AAB1pLXSIXZ4tKIUd8eYMgbga?dl=0
• Stockeld Park is set within 2,000 acres of woodland and parkland and was awarded 'best family day out' in the national Hudson's Heritage Awards.
• The Stockeld Park estate has been in the same family for over 150 years and has become known as a unique family day out. Owners, Peter and Susie Grant, continue to develop and invest in the attraction supported by a dedicated team.
• Stockeld Park won team of the year in the destination Harrogate Tourism Hospitality awards 1 June 2015
• Stockeld Park was shortlisted and highly commended in the Welcome to Yorkshire White Rose awards 2014 in the best Tourism event of the year.
• Stockeld Park was shortlisted for the 2015 Mumblers' Favourite Children's Attraction
sponsored by GT Service Centre