Beverley Racecourse Late Summer Events
Wednesday, 17th August 2016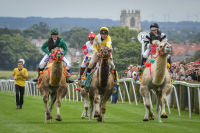 MEDIA RELEASE August 2016
Late Summer Events at Beverley Racecourse 2016
Beverley Racecourse hosts a range of events perfect for racegoers and families in late August and September with the best on and off the course. For tickets and price information, visit http://beverley-racecourse.co.uk/
Saturday 27 August : Totepool Beverley Bullet Day
First Race 2pm
Our most prestigious race day of the season showcases with only the fastest horses and top quality racing.
Our feature race today is The Beverley Bullet Stakes. A fast and furious dash up the five furlong course notorious for its stiff uphill finish, some of the classiest sprinters around will be heading to Beverley to battle it out in the thrilling highlight of our richest race day.
As well as the 'proper' races, don't miss the Charles Owen pony racing also taking place today. Many well-known jockeys have come up through the pony racing ranks, so see if you can spot a Frankie Dettori or a Hayley Turner of the future in today's pony racing.
Gates open at 11.30am with the last race provisionally 5.20pm.
Sunday 28 August : A Sunday Hop
First Race 1.50pm
Our bank holiday family raceday with live music and a beer festival is a great day out for all the family.
Relaxation is the name of the game on this laid back Sunday afternoon. Enjoy a tasty cask ale accompanied by live music in our Wold Top Beer and Beverley Folk Festival, whilst the fun for kids includes funfair rides and side stalls from The Beverley Lions. What better way to spend your bank holiday?
Gates open at 10.30am for the Course Enclosure and 11.30am for everywhere else. Last race provisionally 5.15pm.
More./..
Wednesday 14 September : An Afternoon of Racing
First Race 1.50pm
We bring you a full afternoon of racing action at Beverley Racecourse, with our penultimate meeting of 2016.
Gates open at 12 noon. Last race provisionally 5.10pm.
Tuesday 20 September : Season Closer
First Race 2.10pm
Join us for our season finale race day and help us close the racing season at Beverley in true style.
Gates open at 12 noon with the last race provisionally at 5.15pm.
ENDS
Beverley Racecourse is a flat racing course set just outside the historic town of Beverley, with 19 flat race fixtures in 2016 running April to September. Beverley Racecourse has been ranked as one of 2016's top ten racecourses in the country for customer experience by Visit England.
Further details are available at www.beverley-racecourse.co.uk. The Racecourse Beverley, York Road, Beverley, East Yorkshire, HU17 8QZ.
Tel 01482 867488.
MEDIA CONTACT
For more information and a selection of images and media passes, please contact Kendra Grahame-Clarke at Kendra PR on 07910 214474 kendra@kendrapr.co.uk or corrie@kendrapr.co.uk. For Racecourse enquiries, please contact Beverley Racecourse on 01482 867488.
http://beverley-racecourse.co.uk/racing/season-calendar